O+ Festival artist Eugene Stetz, who made a mural at People's Place in Kingston this year, was among a number of creatives who experienced floatation therapy at Zephyr Float  during the weekend-long festival in October. The Kingston-based wellness business provided complimentary services as part of the O+ exchange of the "art of medicine for the medicine of art."
"The float was an incredibly relaxing cleanse from the previous week of paint spraying, screen staring, and the high energy of O+," Stetz says.
After his appointment, co-owner Olga Schoonmaker approached the artist about creating a mural in her wellness business's soon-to-be spa room.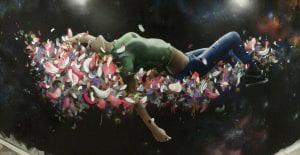 "We've had so much fun meeting all of the artists who came through our center that week," Schoonmaker says. "Eugene stood out as someone whose work my husband (business partner Ryan) and I connected to. We immediately asked him to create something for our space."
Over the next few weeks Stetz and Schoonmaker exchanged ideas about the theme of the work, Stetz says. The artist and provider also decided on a combination of financial compensation and a culture-for-care exchange in the spirit of O+ that includes future floating appointments.
"It is so gratifying when O+ helps facilitate these connections between community members, in this case an artist & wellness provider, to their mutual benefit," says Denise Orzo, who oversees the festival weekend's curatorial team. "The dream of O+ is that the spirit of reciprocity extends beyond the festival weekend, acknowledging the value of art and artists in the healing of our communities."
The mural was completed in early December. Stetz has posted a video of the process.
"As a float center and a local business, it's important for us to create a community space within our walls," Schoonmaker says. "Eugene has added something extraordinary which will not only convey a visual representation of floatation therapy, but help people find peace and comfort."