YO+U'RE invited to the first O+ Poughkeepsie festival of art, music, wellness and community Friday-Saturday, Aug. 4-5 throughout Main Street between Market and Cherry streets in downtown Poughkeepsie, N.Y.
Festival wristbands are available now for a $20 suggested donation. The wristband is your all-access pass to hear 25 bands (including Holly Miranda, Continental, The Funk Junkies and Monogold), watch artists make large-scale murals, participate in EXPLO+RE classes in dance, yoga and more and attend a Wellness EXPO+. Check out the full lineup here.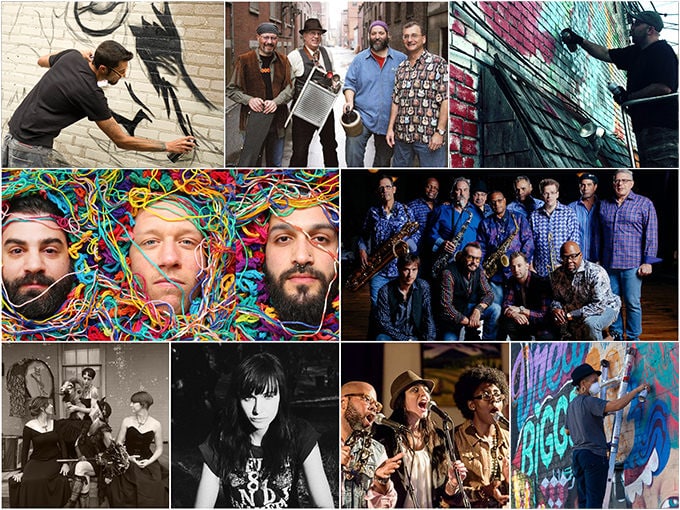 What makes O+ (pronounced O Positive) unique? The underinsured artists and musicians who donate their talent and performance to the festival weekend receive complimentary health and wellness care in an Artists' Clinic staffed by volunteer providers. We call this exchange "The Art of Medicine for the Medicine of Art." The lead sponsor of the inaugural weekend is Mid-Hudson Regional Hospital.
O+ Poughkeepsie kicks off Aug. 4 with programming to coincide with the FIRST FRIDAY MUSIC STREET FAIR from 5:30-8:30 p.m. on Main Street from Academy to Market streets. O+ Poughkeepsie bands Bright Dog Red and Poet Gold & the Evolving Wordsmiths will perform.
On Aug. 4 and 5 watch large-scale murals being made at the Up To Date Wall (288 Main St.) by Poughkeepsie's own Boogie and John Breiner plus High Falls-based artist Eugene Stetz. Mr. Prvrt of Rochester will make a mural on a wall at Pancho Villa, 550 Main St.
Then on Aug. 5 experience a Wellness EXPO+ featuring health- and wellness-related nonprofits, services and businesses. Take unlimited EXPLO+RE classes at Mural Square Park. And check out 25 O+ Poughkeepsie bands playing the Mid-Hudson Heritage Center, My Place Pizza and Main Street Pizza.
Make a suggested donation of $20 and receive an all-access festival wristband and a T-shirt as a thank you.
Your advance donation allows O+ Poughkeepsie to be accessible to the entire community with a "what's it worth to you/pay what you can" option at check in. Donations also power the yearround work of the nonprofit O+ to empower communities to take control of their collective wellbeing.
The Mid-Hudson Heritage Center aka HO+ME Base (317 Main St.) will open at noon on Aug. 5 for attendees to pick up their festival wristbands, programs, T-shirts and O+ Poughkeepsie swag.
Check out the full O+ Poughkeepsie lineup and plan YO+UR itinerary!