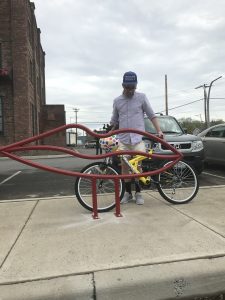 Cyclists riding along Kingston's Cornell Street can now park and lock their bikes on a piece of public art at The Lace Mill.
Writer, artist and aerobics teacher Buddy Valentine in collaboration with Pioneer Agency was the winning designer of a 2017 bike rack competition made possible through a grant from APA NY Metro as part of the Plan4Health program.
This art-meets-wellness project is a partnership between City of Kingston / Live Well Kingston, Bike-Friendly Kingston, Kingston Greenline / The Kingston Land Trust and O+.
"Buddy Valentine's bike rack, which references the designer's pair of O+ murals that kiss across town, adds a new element of functional public art to Cornell Street," said Aimee Gardner, O+ director of operations. "It's a seamless blending of art and wellness."
Two more of Buddy Valentine's SWAK bike racks will be installed along Cornell Street soon!
"When I was a kid in the suburbs of Chicago and we'd drive into the big city, there was this giant sign shaped as a pair of red lips," said Buddy Valentine. "It was along the highway as you approached the urban areas, for me a beacon of big, big dreams. My dream for the SWAK murals I've been fortunate to create with O+ and now this exciting bike rack project is that they'll ignite excitement and big dreams in the same way, intriguing kids and adults alike about Kingston's awesomeness."
The bike racks were purchased through a Main Street Revitalization Program grant funded by Central Hudson.