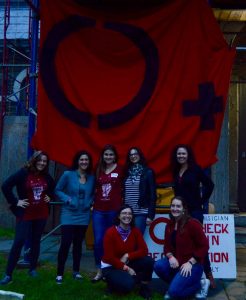 Before O+ North Adams team members could envision how an O+ Festival could look in their city, it was apparent they needed to experience the signature festival in Kingston, N.Y., where the nonprofit O+ is headquartered. They traveled to Kingston to volunteer at the ninth annual O+ Kingston (Oct. 5-7, 2018).
The North Adams representatives helped check in musicians and artists, shadowed volunteers in the Artists' Clinic, sold tickets at venues and the box office/home base area, and helped photograph bands and live art exhibitions. Volunteers knew where to be and there were plenty of hands to help in case anything happened. 
"Volunteering for O+ Kingston was energizing!" said Suzy Helm, O+ North Adams city liaison. "Seeing the positive response their community has to the festival, how invested they are in it, and how appreciated the festival and the services it provides were, solidified my belief that North Adams is ready for our own O+ Fest, and we have the support and enthusiasm to make it a new annual event embraced and celebrated by our community."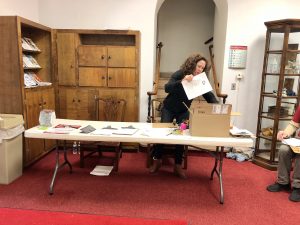 The North Adams team learned some valuable lessons from the Kingston festival's footprint: the farmers' market ran into the health expo and the O+ office and green room (which featured healthful food offerings, including shrimp, naan and spicy peppers, fresh salad and more) were situated so close to everything for easy access.
Events were able to run without interrupting normal weekend traffic flow in establishments such as Rough Draft Bar & Books for the literary salon. Whether folks came for the readings or not, business continued.
Benjamin Lamb, O+ Ambassador, enjoyed O+ Kingston's health and wellness EXPO+. "Something I found extremely exciting was speaking with local business owners," Lamb said. "Each of them, whether they had been open for 10-plus years, or just opened this summer, spoke positively to how O+ has become a catalyst for growth in downtown businesses, and rehabilitation of both commercial and residential properties in close proximity to the economic corridors."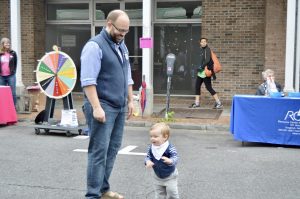 It was incredible to see how many community members were familiar with O+, and the North Adams team hopes the same energy is recreated in their community. Members left motivated, inspired with ideas and eager to get to work.