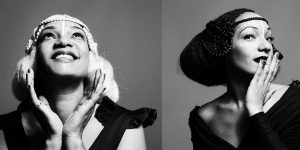 French-Cameroonian duo Les Nubians, known for a singular blend of warm R&B and francophone hip hop, will headline the inaugural O+ North Adams festival of art, music and wellness (May 10-11). MASS MoCA and O+ (pronounced O Positive) co-present Les Nubians' performance at the museum's Hunter Center on Saturday, May 11. The musician Spero (Burlington, Vt.), whose music is a blend of jazz, folk and world rhythms, will open for Les Nubians.
Spero is among nearly 20 musical acts and nine visual artists (mural, installation and performance) confirmed to participate in the festival's unique exchange of the "art of medicine for the medicine of art" at a variety of North Adams venues. Creatives and festival volunteers who donate their time and talent to the weekend receive free health and wellness care in an Artists' Clinic staffed by local providers across disciplines.
The public can order all-access festival wristbands and merchandise online or make a donation for a wristband in person at Common Folk, 73 Main St., North Adams.
The initial music lineup includes Brooklyn-based Blood Blush (post-punk/dream-goth), who will kick off the festival Friday, May 10, as well as beloved North Adams band Quincy, who will treat festival audiences to their genre-blending mix of country, folk, bluegrass and indie rock on May 11.
North Adams-based painter Danielle Klebes will create a mural that focuses on the history of the mill town, its proximity to the Berkshires and its reputation as a burgeoning arts mecca. Other local artists participating in O+ North Adams include: Montague, Mass.-based B Kline ("Rage Drumming" participatory performance); and North Adams artists Daniel O'Connor ("Homies" paintings and hometown postcards); Erica Barreto ("Creativity Capsule" participatory arts event); John Ryan ("Baggage" cabaret style puppet performance); Petros Chrisostomou ("Still Here/Still Alive" exhibition of large-scale photographic works); and Dalton James ("Objects of Significance" installation). Zoe Villane will design a commemorative T-shirt for the inaugural festival.
Alumni of other O+ festival cities are among the participating artists: Vince Ballentine of Brooklyn, N.Y. will paint a mural inspired by the Hoosac Tunnel and Jessica Poser of South Hadley, Mass. will present "Rupture and Repair," a participatory installation exploring some of the psychological aspects of creativity.
A number of music alumni from other O+ festivals will play the first O+ North Adams, including Frenchy and the Punk (cabaret/folk rock, New Paltz, N.Y. — pictured at top); Home Body (electronic/experimental pop, Greenfield, Mass.); JB!! aka Dirty Moses (hip hop/rap, Albany, N.Y.); Kortnee Simmons (R&B, Kingston, N.Y.); and MSL (dream pop, Beacon, N.Y.).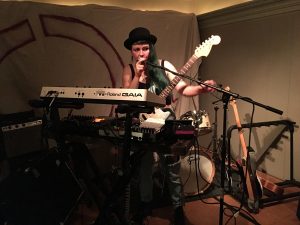 O+ North Adams' initial music lineup spans genres and geography: Belle-Skinner (rock/indie, Delmar, N.Y.); Matthew Fowler (singer-songwriter, Gainesville, Fla.); Erica Eso (synth pop, Brooklyn, N.Y.); Hill Haints (post-punk/no wave, Berkshire County); Jagweed (banjo punk, Ludlow, Vt.); Julia Caesar (indie femme rock, Burlington, Vt.); Mamma's Marmalade (newgrass, Northampton, Mass.); Mutant Forest (immersive electronic, Brooklyn, N.Y.); Nick Stanley (singer-songwriter, North Adams); and Weege and The Wondertwins (hot jazz circus rock, Westfield, Mass.)
Venues include Common Folk, The Green, Elks Lodge and Hunter Center.
An all-access festival wristband includes admission to all the concerts (including Les Nubians) and art happenings as well as an EXPLO+RE series of classes that include meditation, stress management, Tai chi, Pilates and more.
Wristbands and merchandise are available for order online or at Common Folk, 73 Main St. The first 250 people to order a wristband will have access to a secret show on May 10.
MASS MoCA is opening up its doors to volunteer providers, who will build and staff the Artists' Clinic on May 11 of the festival weekend.
Berkshire Health Systems is the lead sponsor of O+ North Adams. The growing list of partners include the City of North Adams, Common Folk, Golden Paintworks, The Green, Mass Cultural Council, MASS MoCA, MCLA Design Lab and Northern Berkshire Community Coalition.
To stay up-to-date be sure to follow O+ North Adams on Facebook and Instagram.
For general festival information or to discuss sponsorship opportunities email: northadams@opositivefestival.org
For press inquiries, email Makayla McGeeney: mmcgeeney@opositivefestival.org