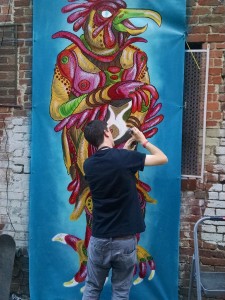 The works of the street artists who donated their time and talent during the 2014 O+ Festival in Petaluma, Calif., will be auctioned online to benefit the Bay Area festival. View the works and bid here beginning 9 a.m. on Friday, Jan. 23, 2015 until 7 p.m. on Monday, Feb. 2, 2015.
Artworks were made during live painting events on materials donated by Heritage Salvage and Crown Trophy. Participating artists include Maxfield Bala, Raudiel Sañudo, Xavi Panneton, Nell Hernandez, Tobias Johnson, Ryan Petersen and Rhett Johnston/Graham Nelson.
A reception, which presents an opportunity to view the art in person, takes place Jan. 23 from 7-10 p.m. at Prince Gallery, 122 American Alley in Petaluma. Complimentary beer from national festival sponsor Lagunitas Brewing Company will be served.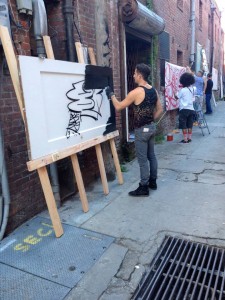 "We have a lot to celebrate," says Aimee Gardner, who oversees the Bay Area festivals. "Our 2014 weekend clinic welcomed 22 artists, 106 musicians and 78 volunteers, who received more than 400 visits with dentists, doctors, chiropractors, massage therapists, and other wellness practitioners. Help make this happen again through your purchase of art."
Auction organizers will extend the auction if the reserve is not met. To stay informed about the auction and reception, please "like" O+ Festival — Petaluma's Facebook page.
The O+ Festival is a 501(c)3 non-profit organization dedicated to enhancing community well-being by connecting musicians, artists and health & wellness providers in weekend-long celebrations.
The 2015 festivals will take place in Chicago in September, Kingston, N.Y. in October, and Petaluma, Calif., in November.