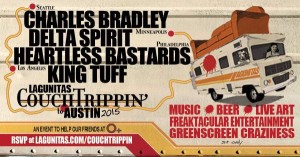 The O+ Festival is once again crashing on the couch of national sponsor Lagunitas Brewing Company during its winter CouchTrippin' tour to Austin. The city-to-city party, which features O+ artists doing live painting, launches Feb. 21 in Philadelphia in collaboration with the City of Philadelphia Mural Arts Program. Additional stops take place in Los Angeles, Seattle and Minneapolis before ending in Austin on March 18.
Hear music from some killer bands, enjoy some "freaktacular" entertainment from the Lagunitas Beer Circus, taste Lagunitas brews, and mug for the camera in the CouchTrippin' VideoBooth. The tour will also feature O+ Festival information, cO+ol merchandise and opportunities to make donations to the non-profit organization.
"Lagunitas has once again invited O+ to crash on their couches, and this time we are bringing along for the ride visual artists from our festivals in Kingston, NY; Petaluma, Calif; and Chicago," said Joe Concra, executive director of the O+ Festival. "We lO+ve the opportunity to spread the word about our art, music and wellness celebrations that enhance entire communities."

Parties are 21+ over only. First come first served. Learn more and find out how to RSVP here. See you on the road!
Saturday, Feb. 21 — Skybox Events Center in Philadelphia. — Music by Heartless Bastards and Son Little — Live art by Nils Westergard in collaboration with O+ and the City of Philadelphia Mural Arts Program

Friday, Feb. 27 — Mark Sennett Studios in Los Angeles — Music by King Tuff with Sonny and the Sunsets — Live art by Raudiel Sañudo
Friday, March 6 — Emerald City Trapeze in Seattle — Music by Charles Bradley and The Tontons — Live art by Ethan Harrington

Thursday, March 12 — Aria in Minneapolis — Music by Delta Spirit and Hippo Campus — Live art by Josh Reisz
Wednesday, March 18 — Container Bar in Austin — Music by Charles Bradley, Delta Spirit, King Tuff, Heartless Bastards, the winner of the NPR Tiny Desk Concert Contest, and Tony Magee — Live painting by Sorne