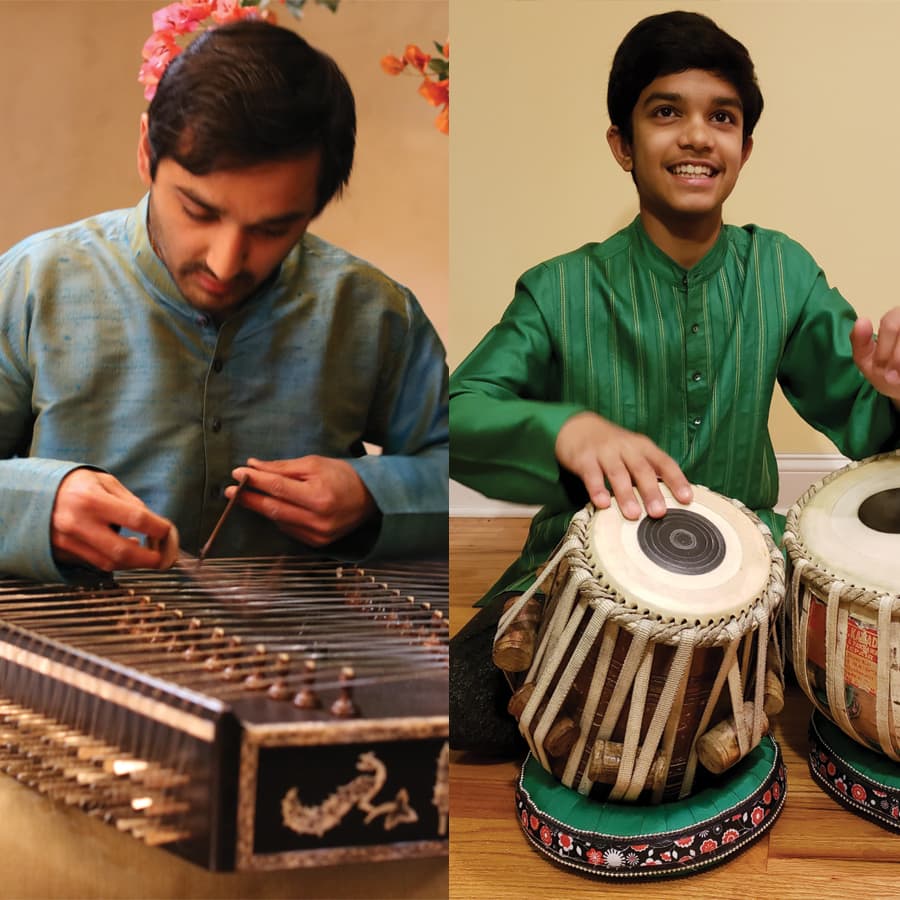 Initially, Vinay received knowledge in vocal/harmonium/tabla from Shafiq Rahman in his teens. After completing his college in both Pre-pharmaceutical science as well as Pre-Law in Delaware, Vinay sought out to learn Santoor in India. In 2011, with blessings and direct guidance of Padma Vibhushan Pandit Shivkumar Sharma, Vinay began his studies under Takahiro Arai and Dhananjay Daithankar. He later moved back to USA to learn from Kunal Gunjal. To expand his knowledge in music, Vinay has learnt from different Maestros such as late Pandit Ramesh Mishraji, Parthasarathi Chatterjee, Jay Gandhiji, and Suryaksha Deshpandejii.
His music is interwoven with the general feeling of peace and stillness interspersed with lively, powerful and rhythmic phrases.
Vivek K Pandya is fouteen years old.  He has been learning tabla from world renowned tabla maestro Pandit Anindo Chatterjee since past nine years. Vivek was born in Long Island, NY in a musical family.  Initially he was guided in tabla by his uncle Viral Pandya.
Vivek was invited by late Pandit Arvind Mulgoankar ji to play tabla solo in ustad Amir Hussein Khan's 47th barsi concert in 2016 held annually in Mumbai.  He has also played solos in Solapur, Pune, Mumbai, Arizona, NJ, NY and in front of Tabla faculty and students in Baroda at MS University.  He was invited as a child artist under the scheme of extra mural lecture series on characteristics of Farukhabad gharana in 2015 and 2017 by the dean of MSUniversity school of music.  Aside from playing solo Vivek enjoys accompaniment.  He has accompanied several upcoming talented musicians and established artists.  His tonal quality, clarity of bols, speed and musicality has been recognized by musicians and music lovers all around the world.