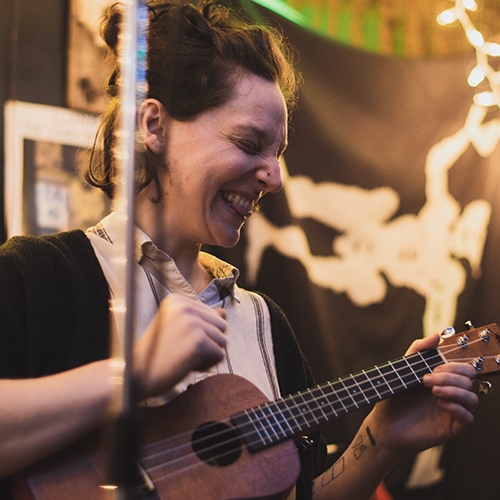 Rosendale-based Singer-Songwriter, Ami Madeleine takes her listeners into dreamlike introspection and carries them back to life with loving perspective.
Inspired by the synergy of the natural world, her studies in Buddhism, and interpersonal relationships, Ami Madeleine's songs explore the depths and insights of our shared experiences in love, heartbreak, life, and death.
Writing music started as a means to personal transformation and meditation for her, which she radiates in her songwriting and performances, connecting the audience to themselves and each other with a raw and soothing lilt.
Ami is a mostly self taught multi-instrumentalist, musically raised by the support of friends, family, and the local community in the Hudson Valley, NY. She released her first album self-titled "Ami Madeleine" in 2014 and her second "Hungry Ghosts" in 2017. With her recent single "Don't Cry, Hold My Hand", Ami is venturing from ukulele to guitar and reviving her love for the violin for her third full length album to be released in late 2019.
www.amimadeleine.com