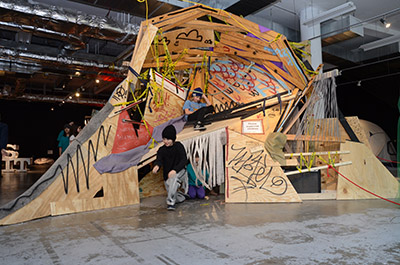 Part I: HomeBuoy: The site specific installation is a reflection on perspectives. The "X" represents the crossing of paths, allowing one site to have many different views. The HomeBuoy space creates physical and visual divisions depending on where one stands. Viewers will be able to immerse themselves in the colorfully transformative environment, it is an opportunity to lounge and dream while experiencing the object filled installation.
Part II: X-tra Ordinaries Port: A mobile sculpture that begins its journey at HomeBuoy (@Ferrovia Studios) and reappears in various locations around Kingston over the festival weekend (uptown, midtown and Rondout). As the Port travels visitors can interactive with it creating new relationships. The Port arrives in Kingston like an immigrant without a purpose or place, intrigued by its potential with human contact. The Port is on an adventure in Kingston, guided by its interactions with the community.
ArtPod is an internationally focused gUG-Gemeinnützige Unternehmergesellschaft (German nonprofit) organization, co-founded by Laurie De Chiara, promotes accessible, direct and unconventional interaction between contemporary art and a wide range of audiences. Often a team of artists, and/or cultural thinkers come together to exchange ideas and develop an artwork, for example, HomeBuoy and X-tra Ordinaries Port was conceived in this way. By producing group exhibitions, programming and consultancy with upcoming and established artists, ArtPod seeks to engage visitors in a supportive, relaxed environment that fosters open-ended dialogue, imaginative exploration, and hands-on play. By reigniting the relationship between education and the art experience, ArtPod aims to support and develop the visitor's creative voice.