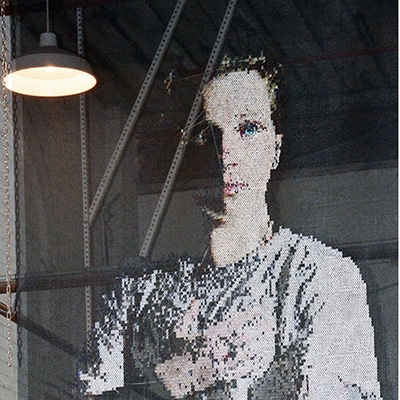 Kris creates large scale cross stitch portraits (lots of tiny Xs). The X ican be a symbol of a barrier, a fence. It separates. It is a symbol for the human condition – that my experience is contained within my body – and my pain is contained within this body. Kris' work is made of Xs on a grid. The grid (screen) separates the space, defines it. The X creates an image. One that can be seen through. Separate and connected. When the work is hung off the wall, one side is the Xs – ordered and structured. The other side is organic, much like the human skin. Each side has a different experience but acknowledges the other.
The work is able to be touched. It is best hung in a place that forces the audience to move in an unexpected way with the space.
Kris Campbell is currently creating large scale portrait art using cross stitch technique on open weave synthetic screens for canvas. Kris double majored in both Art and Biology at Lafayette College. Her early path after undergraduate school lead her to a position of color manipulation in the world of clothing catalog publishing, back when Photoshop was just 1.0! Her desire for community connection lead her to working for Social Impact Studios, a Philadelphia based business that brought art and activism together to engage the public in important social issues. She continued to paint and sculpt in Philadelphia while not only working full-time but also studying at the original renowned Barnes Museum. Never willing to sit still in life, Kris persistently pursued acceptance to the SVA graduate school program. Upon acceptance into the MFA program, Kris left Philadelphia and returned to New York. Here her work continued, painting portraits on plexiglass while experimenting with layering techniques of both color and plexi. Kris' art has been deeply influenced by the generations of familial history in the flower bulb industry. It shines brightest in how she sees color, explaining that each cross-X in her stitching is like an individual bloom in the Dutch flower fields. Kris inherited a vast supply of fiber art supplies upon the death of her grandmother. Bequeathed heirloom supplies and equipment (looms, spinning wheels, wool, and boxes of embroidery floss) guided her to her first cross stitch project which was a portrait of her son. Upon completion, she chose to frame the piece with the back as the front. Flashing forward 10 years now, she is using window screen as a ground, enabling her to work bigger and play more with color. In the past year the work has come off the wall and hangs so that both sides of the work can be experienced, making her newest art a sculptural experience also.