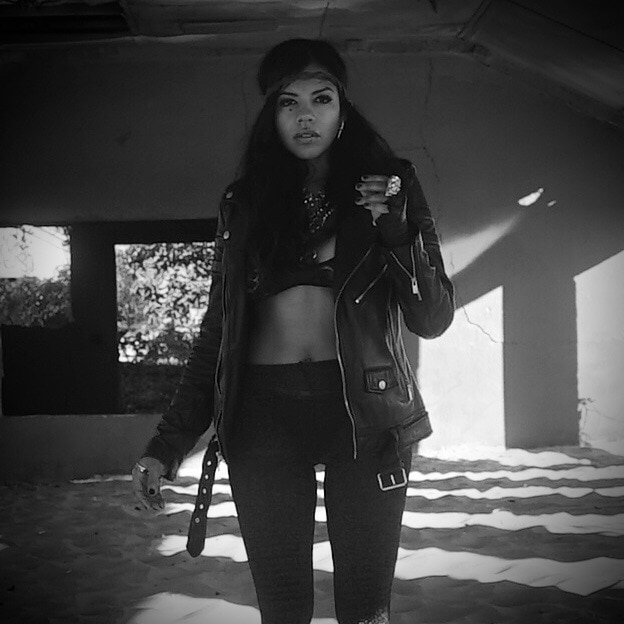 NYC-based Dominican singer/songwriter Roxiny continues her ascend with a brooding and emotionally charged upcoming EP QOYA: fase 1. Born in the Dominican Republic and raised in Spain, Panama, and Italy, she bought her first guitar in Napoli when she was 15 and began channeling groups like Yeah Yeah Yeahs, Bauhaus, L7, and Suicide while singing in a young punk band. Roxiny graduated high school early and ran away from home at the age of 17, flying to the U.S. and then driving cross-country to California. Armed with a global arsenal of music and the command of five languages, she soon signed to a major label and relocated to New York City, but like so many artists, the road to success was paved with challenges. Creatively stifled, Roxiny parted ways with her record contract in order to find her own voice while writing new music, working with different producers, and performing in Brooklyn and the Lower East Side.
Roxiny's first big break would come in 2013 when Sleigh Bells enlisted her as a backup singer – during this stint, she was featured in their "Bitter Rivals" video and she appeared with the band on Jimmy Kimmel Live! Two years later, she partnered with Shan Nicholson (Rubble Kings, Downtown Calling), Little Shalimar (Run the Jewels), and TV on the Radio's Tunde Adebimpe to write the song "Phoenix" for the Rubble Kings soundtrack. The only female artist featured on the film score, Pitchfork highlighted the track, favorably comparing Roxiny's voice to early Santigold. It was around this same time that she was introduced to producers Chris Coady (Beach House, TV on the Radio, Santigold) and Jonathan Kreinik (Jim Jarmusch, TransAm, Jean Miche), and she spent the rest of 2016 recording out of their respective Los Angeles and Brooklyn studios.
Her forthcoming sophomore EP Qoya: fase 1 was written in the grips of the pandemic. Roxiny partnered with Alex Epton formerly known as XXXChange (FKA Twigs, Arca, Vampire Weekend, Jamie xx) and longtime collaborator Jonathan Kreinik to write and produce QOYA, a 3 EP conceptual trilogy from the confinement of her bedroom, on an iphone, via virtual sessions throughout 2020 and 2021. QOYA is a fiercely relevant body of work with lyrics focused on healing, injustice, identity, breaking cycles, awakening, and the challenge to co-exist as a nurturing vessel, sexual being, creative force, survivor, and new mother. It is a profound diary of Roxiny's personal battles, vulnerabilities, protest, and raw sexuality. Throughout, her feverish voice effortlessly moves from velvety-sung confessions to hair-raising wails amidst a backdrop of pulsing synthesizers, snarling guitars, tribal rhythms, and primitive drum machines. Although the stories she tells are weighty, catharsis is most often found.
The granddaughter of a revolutionary who helped mobilize against Dominican Republic dictator Rafael Trujillo during his brutal reign, Roxiny has immersed herself in the advocacy for victims of injustice and most recently performed for The Violence Intervention Program, an organization that rescues womxn and children from domestic and sexual violence. A cause that she feels has become increasingly important as cases of domestic and sexual violence continue to rise due to the pandemic.
As a singer/songwriter and women's rights activist, Roxiny is indeed laying the groundwork for a new kind of counterculture femme – embracing her power, defiance, and femininity all the while honoring her life's most intimate details.