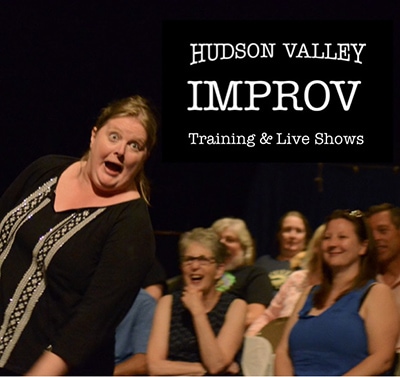 Improv Empowerment
This is the nuts and bolts of what we do at Hudson Valley Improv – we empower YOU to be YOU! In a world where things are changing at a rapid pace, you may need a little creative jolt to turn your focus inward to bring out all of those natural creative instincts. The one hour experience consisting of group improv games, theatre games and group challenges, from the outside it looks like complete madness. From the inside the participants experience empowerment in themselves, the opportunity to empower others and a fearless excavation for the naturals instincts they were born with so they can PLAY! This class is designed for all experience levels and you don't have to be a performer of even funny to participate. Participants will walk away feeling incredible, and from what we've been told, changed forever.
SAMANTHA JONES is an actor and director originally from New York City. Her credits include BULL/CBS, THE BLACKLIST/NBC, LAW AND ORDER:SVU/NBC, SKIN with Jaime Bell, and DRIVEWAYS with Brian Dennehy.
After teaching, directing & coaching in NYC for over 20 years, she made the leap and moved to the Hudson Valley.
Sam's passion and unique approach to teaching improvisation is what brings students back again and again. To Sam, improv isn't about "being funny", it's about being FREE. This philosophy is the nuts and bolts if the work she does in her Improv Empowerment classes. The result? An incredibly supportive and creative community of students personally trained by Sam who speak a common language of performance technique. 90% of Sam's students aren't actors. They are every day people with jobs, families, responsibilities and lives who want to feel better. At Hudson Valley Improv they do just that and it makes everything better.