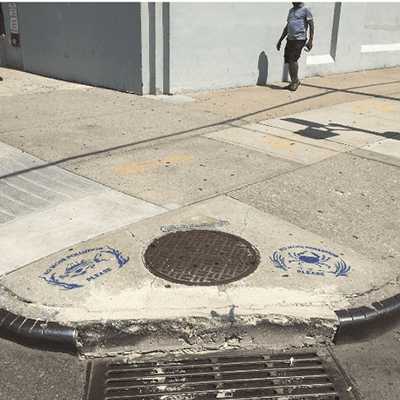 Sebastian Pillitteri, Emile Vail, & Matthew Friday
In the spirit of O+, this collaborative project envisions wellness as more than just an individual concern. Embodying wellness means thinking about how communities work together with their ecosystems to create sustainable and just systems. The diverse and thriving communities of Mid-town and Rondout in Kingston are also home to antiquated urban infrastructure. This area contains a combined sewage overflow system that, under heavy rain or snow melt, releases untreated sewage directly into the Rondout Creek, impacting environmental and human health. Besides sewage, plastic trash, road salt and many pollutants find their way into the river, affecting the well-being of the Hudson, a drinking water source for 100,000 people. This project brings together several groups including Riverkeeper, the Art Department of SUNY New Paltz, Ulster County Resource Recovery Agency, Hudson River Watershed Alliance and the residents of Mid-town and Rondout. Before the start of the festival, the students of SUNY New Paltz will create a massive plastic ball from Ulster County Resource Recovery Agency (UCRRA). Festival participants will meet at Broadway and Foxhall Ave with Riverkeeper watershed educator Sebastian Pillitteri and SUNY New Paltz professor Matthew Friday. After a short discussion about Kingston's ecology, history and infrastructure, participants will begin rolling the giant trash ball as they trace the route of the city's largest remaining sewer overflow system. While tracing the path of the sewer, this work will also recognize the buried stream that traveled the same path and the City of Kingston's current steps to separate stormwater and sewer water. We will stop at several spots to point out various aspects of Kingston's infrastructure and entangled ecology. This project takes up the theme of health and art to creatively renvision the connections between urban infrastructure, ecology and everyday practice. Focusing on the "X" theme as both intersection and destination we are proposing a project that will help people visualize their relations to their watershed and plan for a better, healthier and more resilient future. For us, X marks the spot of Kingston's invisibilized infrastructure, a cross between stormwater, sewage, natural ecology, and history.
Sebastian Pillitteri is the Community Science Coordinator at Riverkeeper.He will be partnering with Emily Vail, artist and director of the Hudson River Watershed Alliance. As well as Matthew Friday, Graduate Coordinator and Associate Professor of Critical Studies at SUNY New Paltz to realize this project.
This project is made possible with funds from the Decentralization Program, a regrant program of the New York State Council on the Arts with the support of Governor Andrew M. Cuomo and the New York State Legislature and administered by Arts Mid-Hudson.