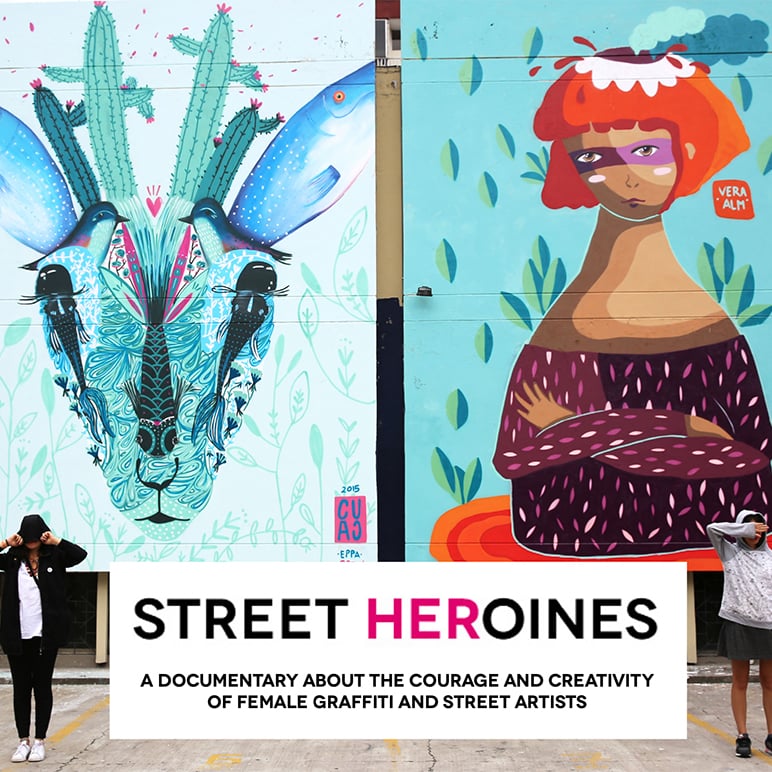 Street Heroines by Alexandra Henry
Film Screening
Street Heroines is a feature-length documentary celebrating the courage and creativity of women who despite their lack of recognition have been an integral part of the graffiti and street art movement since the beginning. Authentic vérité storytelling woven between an interview-driven narrative, Street Heroines juxtaposes the personal experiences of three emerging Latina artists from New York City, Mexico City, and São Paulo as they navigate a male-dominated subculture to establish artistic identities within chaotic urban landscapes.
Punctuated by historical anecdotes from pioneering artists Lady Pink, Claw Money, Nina Pandolfo, Swoon, Lady Aiko, iconic graffiti photographer Martha Cooper, and others, Street Heroines is the first-of-its-kind documentary to capture the collective outcry of female street artists from around the world, shining a light on their mission for creative expression and their endeavors overcome sexism through art.
While numerous graffiti genre documentaries feature familiar names such as Banksy and Shepard Fairey, Street Heroines infiltrates this masculine space by legitimizing women's voices within an unquestionably important movement that symbolizes far more than the sum of its parts. Now, in the wake of #MeToo and Time's Up, which have had astounding repercussions for women's justice, there is no time more relevant for a film that exposes the struggles of female artists worldwide and situates them within the global conversation. Street Heroines is fiscally sponsored by the New York Foundation for the Arts and was funded through a combination of crowdfunding and private donations.
Director | Producer // Alexandra Henry is an award-winning creative producer and director based in New York City. Her personal and commercial work in film and branded content production has taken her to over 15 countries across four continents. Focused on making impactful and culturally relevant work, Alexandra believes that visual communication is the most effective tool in amplifying messages that inspire social change. Her passion for art, music, and language is evident in her photography, music videos, and documentaries. Alexandra has been twice recognized as a CurateNYC Emerging Artist and she was recently selected as one of 32 filmmakers by SHOOT Magazine for their New Directors Showcase 2019.
Executive Producer // Zahra Sherzad is the founder of Noorvision LLC, an NYC-based independent production company, and has been involved in the contemporary art world for 20+ years curating and producing art shows with recognized artists, musicians, DJs, filmmakers, and creatives who have gone on to define street culture as a whole. Currently, Zahra is the Head of Visual Art and an Impact Producer for Level Forward, an entertainment company that develops, produces, and finances entertainment with Oscar, Emmy, and Tony-winning producers. Clients have included: Zappos, Amazon Music, Rockstar Games, AK Worldwide, No Commission Art Fair (Swizz Beats), Moniker Art Fair, Times Square Arts Alliance, and Creative Time.
Producer // Jordan Noël Hawkes has produced documentaries, cultural events, and art-based education programs, and worked on feature film and commercial crews in Brazil, Mexico, Argentina, Uruguay, and the US. For Street Heroines, Jordan started as a conceptual advisor and fundraiser helping to lead the successful Kickstarter campaign, and then traveled on shoots to record sound in Mexico City and São Paulo. She is the former Director of Treefort Music Fest's Filmfort and former Director of Education for The Family of Woman Film Festival. Jordan lives in New York City where she manages award-winning documentary company Lovett Stories + Strategies, and non-profit A Closer Look, promoting awareness on matters of health and social justice through the production of film and outreach campaigns.
Editor // Simone Cassas is an award-winning, Brazilian-born and New York City-based film and video editor with a strong background in motion graphics and post-production, and over two decades of experience in various formats, genres, and styles including television promos, PSA's, commercials, corporate videos, documentaries, and broadcast news. Her work has screened in festivals internationally, and she directed and edited two feature documentaries – Everything is Brazil and Trilogy of the Body – which both aired on Brazil's TV Cultura and Canal Brasil.
Director of Photography // Diana Eliazov is rooted in New York City photojournalism yet broke from photography for five years while photo editor at Sports Illustrated before returning to the camera. Her strong visual sensibilities evolved into commercial, narrative, and documentary filmmaking. Her desire to create social change through art has led her to worldwide projects on immigration, women in art, and maternal healthcare.