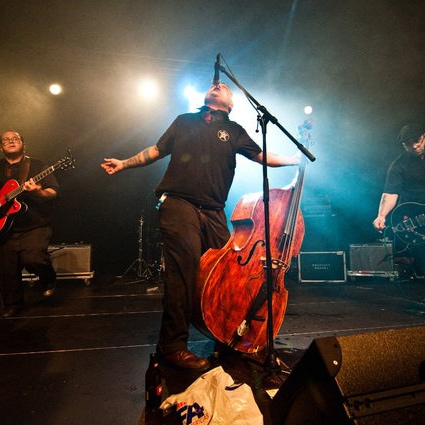 The Arkhams are a 4 piece band playing a brand of Psychobilly which is melodic, danceable, and downright FUN! The sound: a psychotic episode across sub-genre boundaries which at any twitch can switch from Psychobilly/Garage to Mersey-beat/R&B, Surf, Rockabilly and Punk Rock, yet still make sense in this nonsense world. The diversity of musical influence fed through the Arkhams' warped meat grinder of a collective mind yields a tasty and agreeable musical sausage treat that shockingly appeals to a rather broad audience.
Taking their name from a town made infamous in HP Lovecraft lore and also an asylum in Batman comics (that itself being a Lovecraft reference) it's no coincidence that the songs have recurring themes of insanity and mental illness. We are kinda weird.
Formed in 2006 as a three piece, the Arkhams have evolved along the way, adding a second guitar player, (and losing him to kidney failure/a long waiting list for a transplant), having guest Sax players and even a burlesque dancer/performance artist. Since then, the Arkhams have traveled most of the US, Quebec and Ontario, Germany and have been featured at festivals in Spain and Finland.