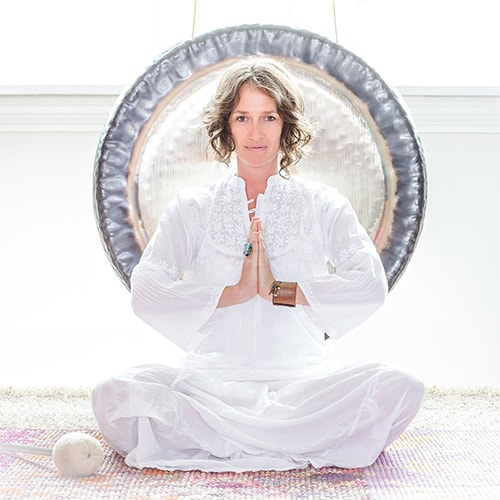 Theresa Widmann, Sound Healer
Gong Bath
The Gong is one of our oldest therapeutic instruments, and has been used in yoga, sound meditation, and vibrational therapy for ages. The sounds and vibrations of the Gong are used for stress reduction, stimulation of the glandular system, and as a facilitator to break up emotional blockages. The sounds of the Gong have the power to resonate in every cell of the body simultaneously causing transformation of the entire self. Allow yourself a momentary break from thinking and doing and slip into a state of profound presence with sound resonating with breath.
Theresa is a holistic coach and sound healer who has studied and practiced various meditation techniques, read countless books on yoga, nutrition, meditation, energy work and spirituality, and is regularly adding to her base of knowledge on all these subjects. She has formally studied Health and Life Coaching, Sound Healing, Kundalini Yoga, Yin Yoga, Trauma Sensitive Yoga, Akashic Records, Reiki, and Mediumship amidst a myriad of informal studies in related subjects.
She shares her passion for community building and activism as host of I Want What She Has, a podcast and weekly live radio show at Radio Kingston to amplify women's voices and their stories, as the Chair of Live Well Kingston's Heal Well Focus Team, as a member of the Ulster County Restorative Justice Task Force and Conviction Integrity Unit, as an organizer of Hudson Valley's One Billion Rising, and as the former Festival Director and Board President for the O+ Festival.
Anahata Yoga & Healing Center