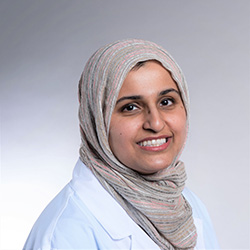 Family Medicine physician Dr. Umara Saleem has been serving the Kingston medical community since 2015, through the Mid-Hudson Family Medicine Residency Program at the Institute for Family Health. She completed her residency in September 2018 and received the program's Excellence in Pediatrics award.
A certified lactation consultant, she is passionate about Women's & Pediatric health, immigrant health, working with underserved populations, substance abuse treatment, working with behavioral health patients, and academic medicine. She is also has talents in henna artistry, narrative medicine, art, and poetry.
"I love being a family doctor and caring for the whole family– cradle to the grave," she says. "I love making connections with new patients and their families to empower them regarding their healthcare. I like work closely with each patient on goal setting and hope to give them a positive motivational outlook to achieve their desired health outcomes".
Health Quest Medical Practice–Primary Care
usaleem@health-quest.org
https://patients.healthquest.org/locations/health-quest-medical-practice-p-c-primary-care-3/