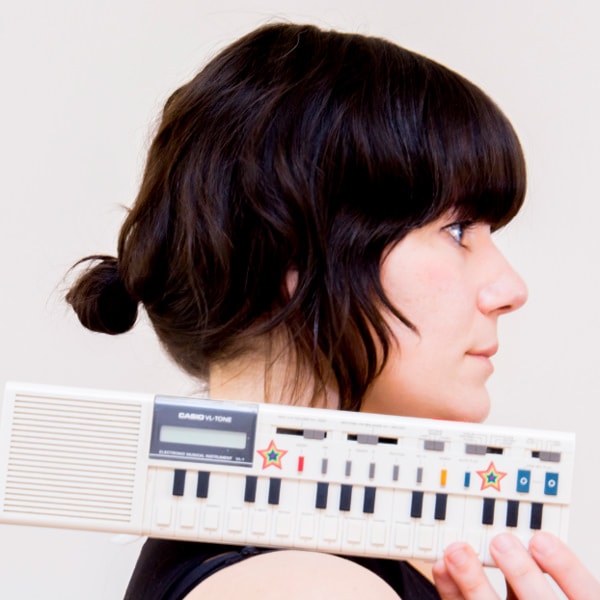 Glockabelle is Annabelle Cazes. She plays two Casio VL-Tones, a lyre-shaped glockenspiel with eight thimbles and sings in both French and English.
Her wild sound stems from a combination of inspiration and circumstance. Born to Francophone parents, Glockabelle received an education both stateside and in France. After being introduced to the sound of the Casio VL-Tone, Glockabelle began blending her classical piano technique with eighties synth-pop sounds. She also developed a unique approach to playing the glockenspiel: not with mallets but with eight sewing thimbles.
This new sound lead Glockabelle to a 2008 tour with Fiery Furnaces, landing her a set at the Bonnaroo Music Festival. She has opened for James Chance, Kaki King, The Go! Team, Marnie Stern, and Jack White's Raconteurs.
She released her first EP in May 2015, which was hailed by SPIN as "anarchic enchantment" and the A.V. Club as "[showcasing] her art-punk, synth-pop provocateur music with gleeful abandon, while still highlighting her exquisite musicianship".
In June 2015, she toured Europe opening for the British band The Go! Team and in September 2015, performed at the Toronto International Film Festival as she contributed the soundtrack to the film "Concerning the Bodyguard" which was an official festival selection. In January 2016, she opened for The Go! Team across the U.S. and in March 2016, her thimble glock playing premiered at both Lincoln Center and The Museum of Modern Art in New York.