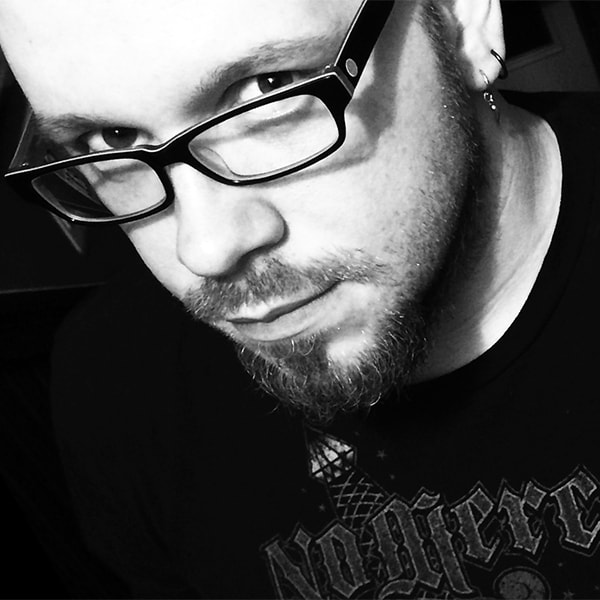 [vc_row][vc_column][vc_column_text]MARTYR ART is an Alternative Metal band, founded by producer/composer/multi-instrumentalist/digital media artist Joe Gagliardi III in the hills of Mountainville, NY. Joe is the only official member of Martyr Art and remains solely responsible for its direction.
Martyr Arts' music infuses a wide range of genres including Thrash, Electronic, Goth, Progressive, Djent, Groove, Grunge, Punk, Orchestral and Noise.
Martyr Art has performed with international acts Corey Glover (of Living Colour), Doyle (Misfits/Danzig), KMFDM, Drowning Pool, Saul Williams, and Full Devil Jacket. Joe (in his previous band Dislocate) co-headlined with international metal acts Fear Factory, Machine Head and Crowbar, to name a few.
Since 2004, Martyr Art has released 9 singles, 5 full-length albums, 2 e.p's and has composed/performed for 21 non-Martyr Art releases. Additionally, Martyr Art has also remixed tracks for Martin L. Gore (Depeche Mode), Front 242, Lords of Acid and Juno Reactor amongst others.
Martyr Arts' music has been featured on WRRV 96.9FM and WDST 100.1FM, along with placements on WJGK 103.1FM in multiple radio spots for marketing of the 2015/2016 Newburgh Illuminated Festivals. Martyr Art has also appeared in three consecutive issues of Guitar World Magazine (Jan-March 2011) in advertisements for Pick Guy Guitar Picks (previous sponsor) along side John 5 (Rob Zombie/Marilyn Manson) and Suicide Silence.
Martyr Art is currently sponsored by String Joy Guitar Strings, Alto Music, ColorCube Creative and Clayton Custom Guitar Picks.
Currently finishing up pre-production, Martyr Arts' upcoming album 'Fear/Faith Machines' is eyeing a Summer/Fall 2017 release.
http://martyrart.com/[/vc_column_text][/vc_column][/vc_row]