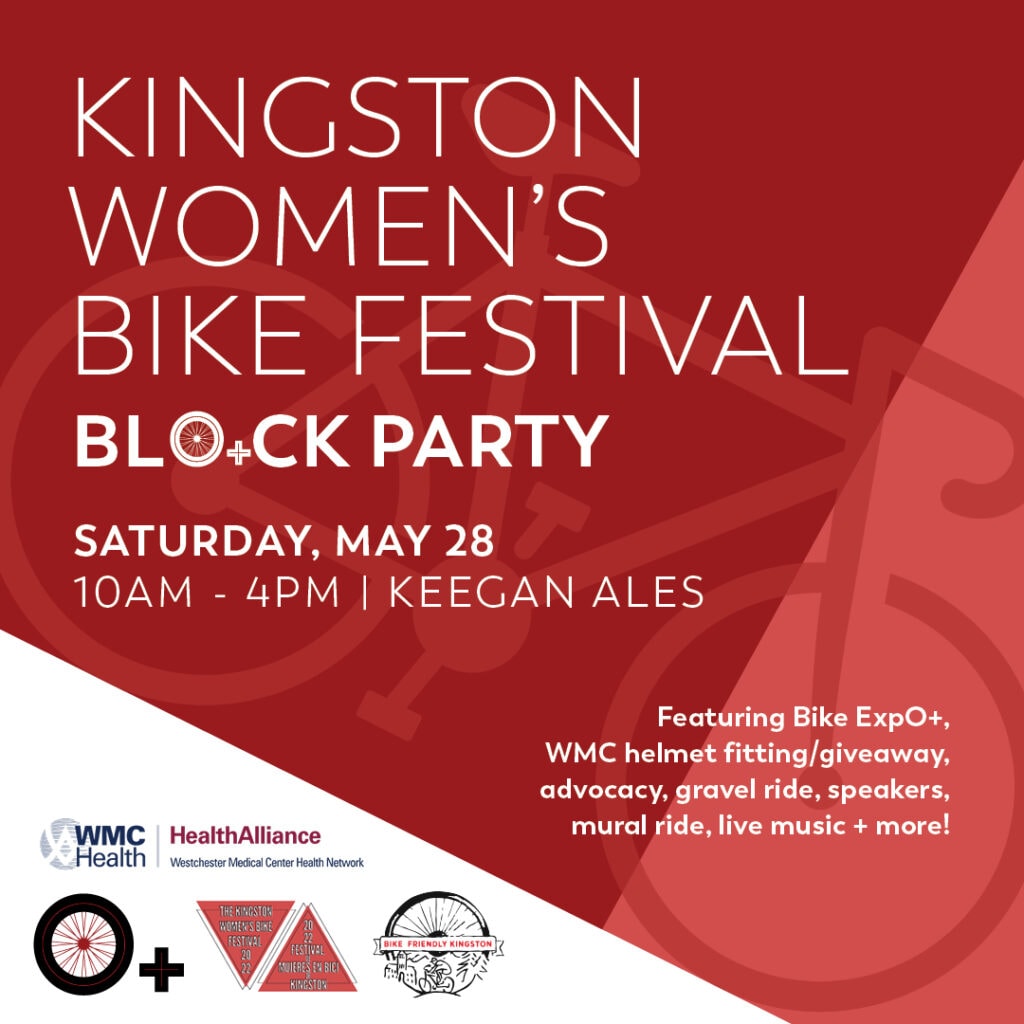 Kingston Women's Bike Festival BlO+ck Party Schedule of Events
Kingston Adventures Gravel Ride

18 mile gravel ride leaves from Keegan Ales promptly at 9am. Register

here.

Opening Meditation With Shawn Harrison from Kingston Yoga Lab & O+

Families for Safe Streets

Headliner: 'Building a Biking Community for All'

Natasha Dailey and Tracey Austin from

Rochester Women Bike

will present

O+ Mural to Mural Bicycle Tour O+'s Aimee Gardner will lead riders through the exploration of a selection of O+ murals that address women's empowerment

Bicycle Skills Clinic

Tom Polk of the

YMCA

will facilitate. Bring your own bike or borrow one from the Bike Trailer (correct sizes are subject to availability).

Event Wrap Up + Thank You's
Two wheels. Cycling at O+ began as most things at O+ do; with a simple question and a desire to move. What is a dynamic way to see all of the murals? The answer was clear: on two wheels.
Since that first "Mural to Mural" ride in 2015, cycling at O+ has expanded and become more and more integral to what we do and who we are as a community.
Kingston is a hub for multiple trails for riding and at the gateway to the Catskill Mountains. Over the years we have partnered with Keegan Ales, the Mid Hudson Bike Club, the YMCA, Revolution Bikes, Kingston Women's Bike Fest, Athletic Brewing and WMC, to name a few, as we have explored the shared belief that cycling is another way to bring people together through wellness. It is not just a great way to see murals or discover a sweeping vista. Cycling is a vehicle for mental health, physical health, and the health of our natural environment. It gives us the freedom to fly, day dream, laugh, reconnect with our bodies, and, of course, sweat.
Throughout the year, O+ offers mural rides and partners with local cycling groups and organizations to support their rides and riders. On O+ Festival weekend every October, we offer rides on a variety of surfaces and distances, for every skill level, to challenge, explore, and celebrate on two (or sometimes three) wheels. A 65 mile climb and roll through the Catskills? A 45 mile trek through the dirt? A parade through town on a tandem bicycle? A family-friendly ride to see a selection of the 50 O+ murals in Kingston? Check our calendar and events throughout the year, grab your helmet and ExplO+re wellness and art on a bicycle with O+.
Interested in organizing or partnering with O+ on a ride or sponsoring a ride with O+ in the future? Contact info@opositivefestival.org