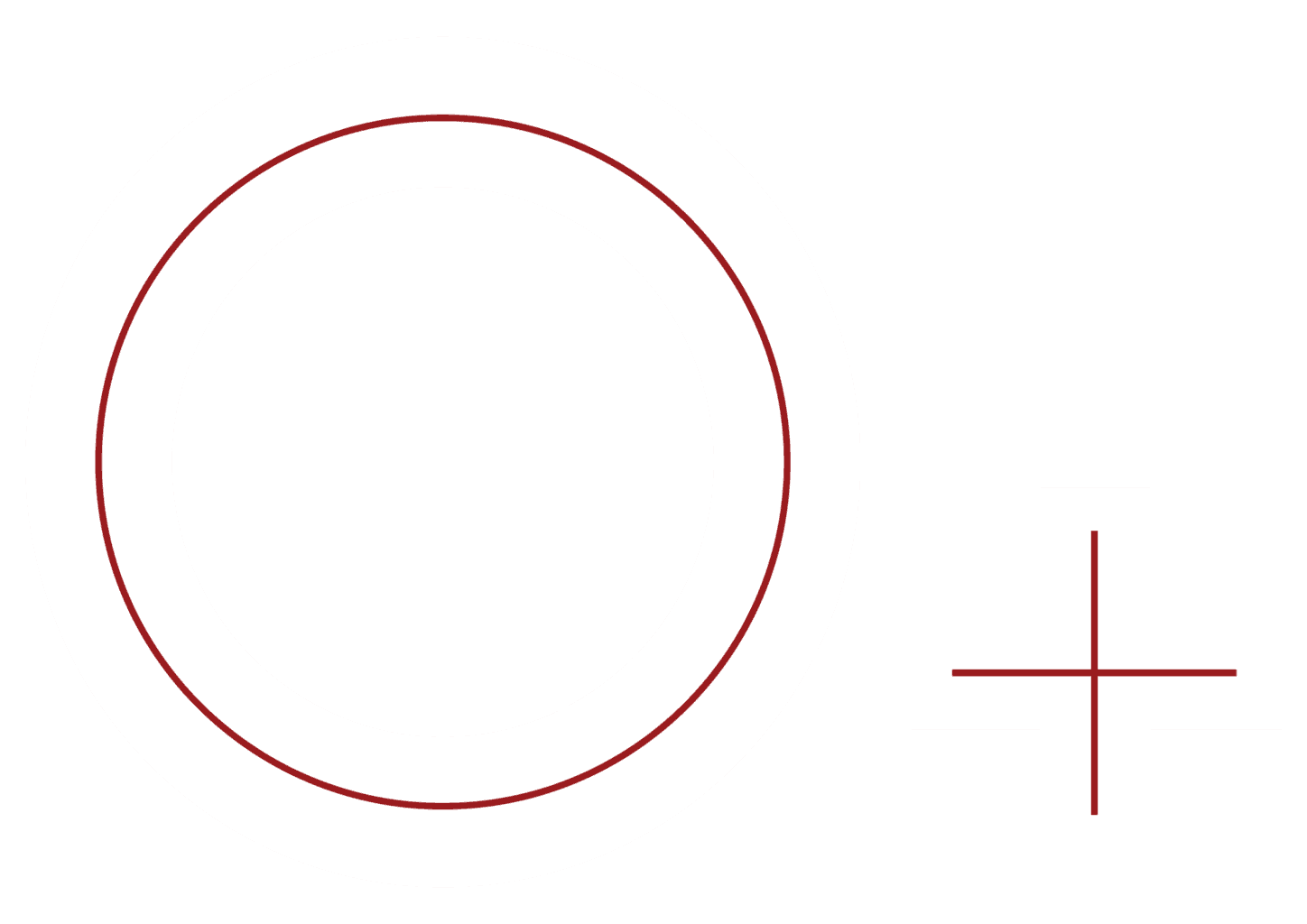 A MESSAGE FROM OUR EXECUTIVE DIRECTOR
Dear Supporters,
Compassionate, radical and creative. Those values have been guiding the work of O+ since its founding 10 years ago. Yes, 2019 marked a decade of the exchange of the art of medicine for the medicine of art between healthcare providers and musicians and artists! More than 2,200 creative people, most of whom are uninsured or underinsured, have accessed the services of our Artists' Clinics and nearly 650 have received dental care.
I am pleased to share the 2019 annual report, which demonstrates a year marked by growth — with the activation of a new city, North Adams, MA — and depth — with a focus on more yearround work and community partnerships in our founding city of Kingston, NY.
In Kingston, we aimed to share the O+ festival platform with fellow activists, organizers and nonprofits. We premiered "Housing: A Human Right," a film from Rise Up Kingston and Survival Media Agency that amplifies the stories of housing injustice of two Rise Up members. And we hosted the UNSurvey, which turned the idea of a survey on its head by having questions about the future of Kingston come from community members.
We welcomed to the team a part-time alumni engagement director to better serve our growing family of artists, musicians, health and wellness practitioners, and teachers who have participated in O+ festivals. We also hired a part-time development manager, who is helping build relationships between O+ and foundations that support our mission and work.
Our mural program continues to provide visibility for artists to share their unique perspectives and practices with a public audience and a platform for yearround education. Speaking of yearround, in 2019 we introduced a series of free wellness classes in June, August, September and November as a complement to the popular EXPLO+RE programming offered to festival attendees in October.
We were honored by the national press when O, The Oprah Magazine shined a light on O+ "Health Heroes" in the August issue. And we were honored by our community when the YMCA of Kingston and Ulster County presented O+ with the Social Responsibility Award in March.
To those who have been part of this movement from the beginning: thank you for helping O+ empower our communities to take control of their collective wellbeing. And for those who are newer to the O+ family: your fresh ideas and insights are what will propel O+ into its second decade. I look forward to working alongside all of you as we embark on this new chapter.
Stay Positive,
Joe Concra
ABOUT O+
O+ is a nonprofit cultural and wellness organization that equally values the contributions  of every member of a community, shining a light on the work of both creatives and health and wellness providers. O+ is dedicated to supporting the health of underinsured artists and musicians, and revitalizing local communities.
O+'s yearround work — including art, music and wellness festivals, healthcare advocacy, art-focused educational programs and public health forums — restores and sustains the health of creative people while strengthening local economies.
O+ endeavors to improve the physical and mental health of artists, musicians and local volunteers while contributing public art to a community and revitalizing its economic health. O+ has formed relationships with more than 50 local businesses, health organizations, nonprofits and hundreds of volunteers to date. O+ operates on the support, hard work and kindness of the communities we serve.
O+ MISSION
O+ empowers communities to take control of their collective wellbeing through the exchange of art, music, and wellness.​
O+ VISION
O+ envisions thriving, diverse communities where a person's value is based on their contribution to the whole and everyone has access to the arts and wellness.
ART
O+ festival artists make murals, sculptures, site-specific installations, films and performances that reflect the history and culture of our diverse communities, honor local landscapes and bring marginalized identity to the fore. O+ artists receive health and wellness care in our Artists' Clinic and local dentists' offices in exchange for their creative gifts.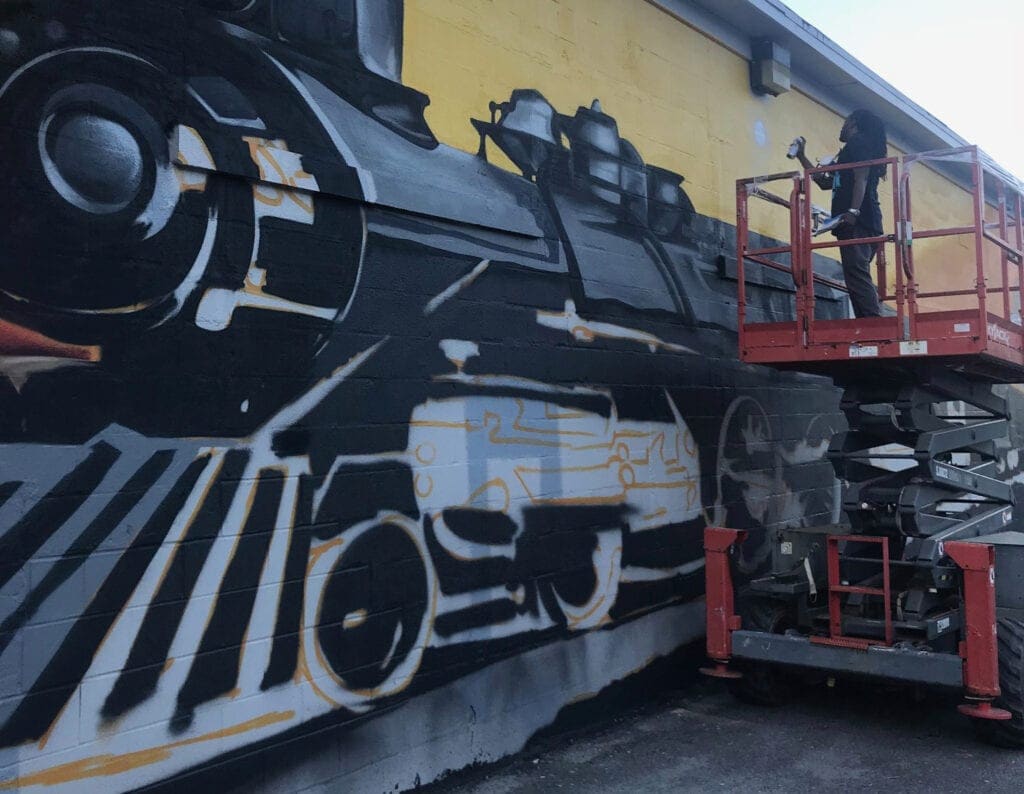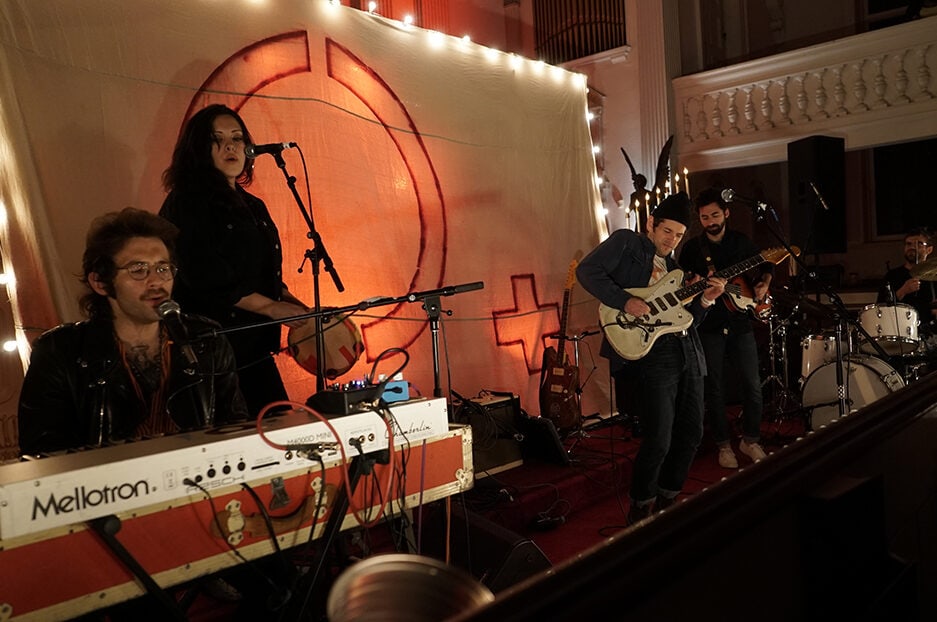 MUSIC
O+ festivals feature concerts in large and intimate venues, including a former Vaudevillian theater, galleries, breweries, even alleys. Participating musicians receive health and wellness care in our Artists' Clinic and local dentists' office in exchange for playing festival shows.
WELLNESS
O+ is committed to advocating for underinsured, freelance musicians and artists in need of health and wellness support. Towards this end, the O+ Artists' Clinic is the heart of every festival. Artists, musicians and festival volunteers receive care from nurses, doctors, dentists, bodyworkers and mental health professionals. Festival attendees experience wellness expos, healing arts classes, cycling events and Narcan trainings.
O+ has developed Educate & Activate, a series of forums that foster understanding of current public health issues, provide critical support for health insurance navigation, and coalesce the community response to policies and protocols.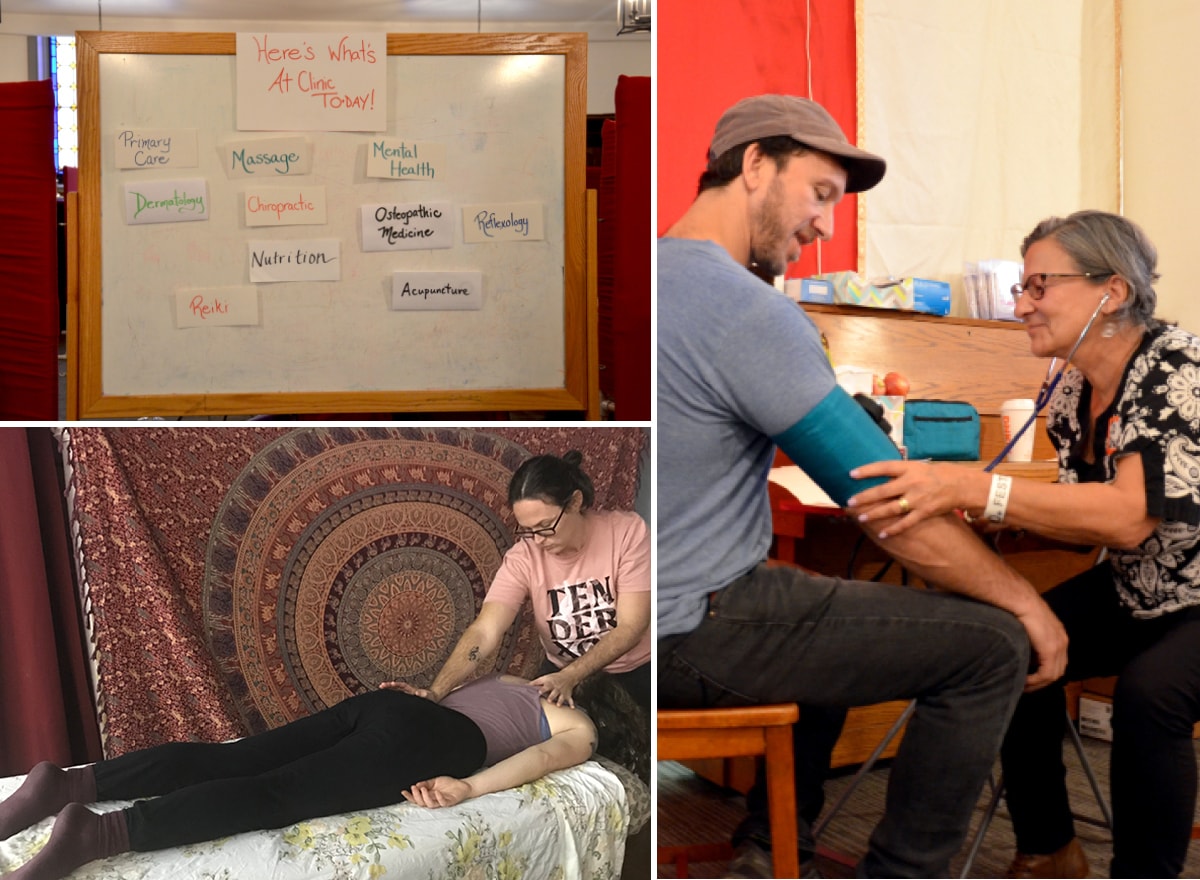 Artists, healthcare providers and community activists in North Adams, MA, produced an O+ festival attended by more than 800 people in May. Highlights included the production of two murals, more than 20 concerts, visual art workshops and installations, 20 wellness classes and self-testing for HPV with Go Doc Go's The Box.
Eight artists, 44 musicians and 17 festival volunteers accessed the healthcare services of the Artists' Clinic, which was housed in Building 6 of MASS MoCA and staffed by 67 volunteer providers, including Dr. Mark Pettus and his team from Berkshire Health Systems.
"The program was the result of months of planning and collaboration among the city team and the larger O+ organization, one that harnessed the power of creativity and community to promote health, wellness, access, and equity"
— North Adams Mayor Thomas Bernard
The Artists' Clinic offered the following options from across the spectrum of holistic care: nursing, primary and integrative care, massage therapy and other forms of bodywork, myofascial release, Reiki, occupational therapy, chiropractic, nutrition, wellness coaching, osteopathic medicine, mental health and medical intuition.
In addition, patients spoke with harm reduction specialists and received Narcan kits — a nasal spray that can help reverse an opioid overdose — from Tapestry, discussed sexuality with Wisebodies staff, sat with navigators from Ecu-Health Care, spoke to Volunteers In Medicine Berkshires about the free services they offer to eligible patients, and received skincare tips from Klō Organic Beauty.
Carver Family Dentistry at their practice provided cleanings, X-rays and fillings to seven O+ North Adams artists and musicians, most of whom hadn't been to a dentist in years. Two musicians received vouchers to be seen by the dentists from the Institute for Family Health.

O+ North Adams Sponsors and Community Partners
Berkshire Health Systems, Golden Artist Colors, Common Folk, Northern Berkshire Community Coalition, The Green, MASS MoCA, Bright Ideas Brewing, Keegan Ales, Greylock Federal Credit Union, Hancock Shaker Village, Cultural Council of Northern Berkshire, and the City of North Adams.
A free BLO+CK Party for the community took place in the Crannell Street passage at the intersection of Main Street in August. The celebration featured a collaborative mural painted by O+ Poughkeepsie alumni boogieREZ, John Breiner, Joe Pimentel and Stetz.
The Dutchess County Department of Behavioral & Community Health provided training in Narcan. Jade Palace Guard deejayed. An airbrushing demonstration took place at 330 Gallery. And young leaders from VOTE (Voices of Tomorrow Empowered) created vibrant picnic tables for public spaces. Special thanks to The Great Studio, who provided free haircuts.
BLO+CK Party Sponsors and Community Partners
Cryptic Gallery, Golden Artist Colors, Hudson Valley Office Furniture and Oakwood Friends School
More than 3,900 festival-goers experienced the 10th annual O+ Kingston weekend of concerts, art happenings, five new murals, cycling events, conference, classes in the healing arts and Literary SALO+N. Approximately 400 members of the Kingston community attended the festival free of charge thanks to O+ supporters who contributed to the NEIGHBO+R Fund. And ticket holders to the Mystical Arts of Tibet at Ulster Performing Arts Center received complimentary O+ festival wristbands.
Meanwhile, 113 dedicated providers contributed 450 services ranging from primary care to massage therapy to acupuncture to mental health in the Artists' Clinic in Old Dutch Church's Bethany Hall, also the location of the festival Greenroom that was staffed by volunteer chefs. In addition, three local dentist offices and The Institute for Family Health provided and are continuing to provide care to 58 patients. Staff of Northwell Health, thanks to a generous grant from Olympus, provided video stroboscopy and vocal coaching to 17 O+ vocalists.
"Thank you O+ for these days of healing. Health Care is truly a Human Right and this festival has a beautiful way of sharing a powerful message to the community and beyond! This is a way it can be! A movement we support. Healers Healing Holistically. Mind, body, and soul."
— Ngonda Badila, lead singer of Lady Moon & The Eclipse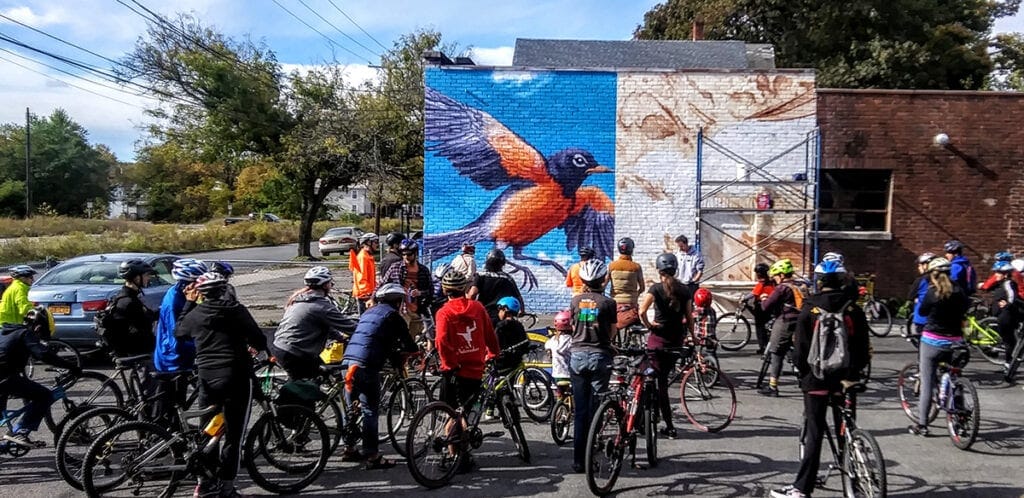 "Housing: A Human Right," a film from Rise Up Kingston and Survival Media Agency, was screened at festival venues around the city. The premiere screening at the Hudson Valley LGBTQ Community Center was followed by a panel on equitable development. Meanwhile, UNSurvey volunteers collected questions about the future of Kingston from members of the community, which were projected on Wall Street and became a Post-it installation during the weekend.

"The rejuvenating benefits on our physical bodies from massage, alignment through chiropractic, Reiki, etc., on our mental learning bodies via naturopathy, physical exam was minor compared with the emotional and spiritual benefits we came away with individually. By spiritual benefits I mean understanding of self and others and increased presence, etc. Overall the experience was a 'return to self' by reminding ourselves how much we should love ourselves; then that spreads outward."
— Ken Reichl, drummer of Lady Moon & The Eclipse
O+ Kingston Sponsors, Grantors and Partners
WMC Health/Health Alliance, Golden Artist Colors, Radio Kingston, The Institute for Family Health, Nonprofit Sector Strategies, Lagunitas Brewing Company, Bank of Greene County, Chronogram, Herzog's, R&F Handmade Paints, Radio Woodstock, ColorPage, Guayaki, Rough Draft Bar & Books, Yesfolk Tonics, Front Street Tavern, Athletic Brewing Co., Construction Tool Warehouse, UBS, MerchNOW, Arts Mid-Hudson, Hotel Kinsley, Catskill Art Supply, Stewart's Shops, Alchemist Custom Cycling/Apparel, Klock Kingston Foundation, Awestruck Premium Hard Cider, Pie for the People, End Cut, Sanzi Associates, UPAC and the Alexander and Marjorie Hover Foundation.
Center for Creative Education, Everette Hodge Community Center, Family of Woodstock, Harambee, Hudson Valley LGBTQ Community Center, Kingston Midtown Rising, Kingston Library, Latinx Project, My Kingston Kids, Radio Kingston, Rise Up Kingston and the YMCA of Kingston and Ulster County.
"I had given wristbands to a few single mothers who said they would not have participated had it not been for the generosity of being given a band. They said that they enjoyed many of the offerings that took place during O+."
— Erica brown, community engagement coordinator for Radio KingstoN
741 MUSICIANS, ARTISTS, VOLUNTEERS, PROVIDERS FROM 2 FESTIVALS
5,211 ATTENDEES FROM 2 FESTIVALS
PATIENT NUMBERS UP 4% FROM 2018 TREATMENT NUMBERS UP 12% FROM 2018
2 NORTH ADAMS (Home Theme) | 1 POUGHKEEPSIE | 5 KINGSTON (X Theme)
Our new alumni engagement director Holly Kelly hosted a mixer at Rough Draft in June that provided an opportunity for artists, musicians, doctors, nurses, massage therapists and yoga teachers to get to know each other better and dream up future collaborations.
Throughout the year O+ worked with alumni artists and musicians who reached out to us with specific healthcare needs, connecting them with providers and sharing options for care. And in December O+ partnered with The Actors Fund to provide alumni with personal enrollment assistance in Affordable Care Act plans or Medicaid with a certified application counselor specializing in freelancers and self-employed creative people.
The O+ website, social media platforms, newsletter and O+ Radio Hour show promoted alumni concerts, art openings and wellness classes. Holly and her team even created a holiday gift guide to showcase the offerings of the O+ family!
O+ has been working for the past 10 years to bring public art to Kingston, NY and other cities around the country. In 2019, artists made five murals in Kingston, two murals in North Adams, MA, and one collaborative mural in Poughkeepsie, NY.
In North Adams, the Northern Berkshire Community Coalition included stops at O+ murals in Downtown Bike Around rides in August and September.
In Kingston, now home to 41 O+ murals, more than 300 community members, students, teachers and visitors participated in guided mural tours throughout the year. In February O+ partnered with Black History Month Kingston on two tours focusing on representation in public art as well as a stop at the "Ain't I a Woman?" mural during the Sojourner Truth Life Walk. As part of ArtWalk Kingston in September, O+ led a guided walking tour of recently made murals.
Tours also took place with Bike-Friendly Kingston, YMCA Farm Project and B.A.R.K. youth crews, Woodstock Day School teachers and students, and Ulster BOCES teachers and students.
In addition, George Washington Montessori parent and O+ alumni artist Kimberly Kae took students and teachers to meet artists in the midst of mural-making during the 10th annual O+ Kingston. Cyclists of all skill levels also had an opportunity to talk with artists during the festival's signature Mural to Mural / Recovery Ride.
Art and communications team members updated the Kingston mural map to include murals made during 2018 and with themes to inspire dialogue. Five thousand mural maps were distributed throughout Kingston and Ulster County for residents and visitors to take self-guided tours. Distribution locations included the Ulster County Tourism office and its kiosks and Radio Kingston; mural map boxes were placed outside of Keegan Ales and 310 Wall St.; O+ team members passed out maps during events like Harambee's African-American Cultural Festival and Midtown Make a Difference Day.
More than 50 members of the Kingston community took part in O+'s free classes in the healing arts on four Thursdays in 2019 aka EXPLO+RE Yearround, which was made possible by a grant from Health Quest:
June: Mindfulness, Meditation + Sound at Anahata

August: Midtown Linear Park Walkguided relaxation and live music at Cygnets Way/Lite Brite Neon

September: Qigong at The Kirkland

November: Traditional Guatemalan Recipes cooking class at Peace Nation Cafe
EXPLO+RE Yearround was created as a yearround complement to the extremely popular yoga, meditation, dance, sound healing and cooking classes offered to festival attendees during the O+ Kingston weekend in October.
Every Tuesday night on Radio Kingston the O+ Radio Hour features compelling interviews with artists, musicians, activists and policymakers, health and wellness tips from providers and music by O+ alumni. 
2019 show health and wellness guests included GoDocGo's Dr. Maggie Carpenter, Isa Coffey and Lia Friedman of WiseBodies, dentists Dr. Tom Cingel and Dr. Bruce Milner, pelvic health expert Cait Van Damm, naturopathic physician Eli Morales, Institute for Family Health's Dr. Mark Josefski, and representatives from New York State of Health, Hudson Valley Community Services and Samadhi Recovery Community Outreach Center.
The sold-out O+ Spring Gala on April 6 at Senate Garage in Kingston raised more than $40,000 for the Kingston-based nonprofit. Without the generosity of our community, our programming that connects underinsured artists and musicians with health and wellness care would not be possible.
In addition, attendees raised $3,000 during the "raise the paddle" as a kickoff to a $10,000 fundraising campaign to distribute free, all-access festival wristbands to underserved members of the Kingston community via partners like Radio Kingston, the YMCA of Kingston and Ulster County, Rise Up Kingston, My Kingston Kids and Harambee.
The gala, which featured a silent and live auction of unique items donated by O+ alumni and supporters, was co-chaired by O+ board members Michael Pisacane and Susan von Reusner.
The Rev. Renee S. House of Old Dutch Church was honored with the CO+RNERSTONE of Community Award, designed by O+ alumnus Tyler Borchert, a Kingston-based sculptor.
"Queen of the Catskills" Lady Esther Gin served as auctioneer and O+ alumni The Star Sisters and Kortnee Simmons performed. The evening culminated with dancing to the music of The Haveners.
O, The Oprah Magazine highlighted O+ as "Health Heroes" in the August 2019 issue. The story, titled "Shows of Compassion," featured interviews with O+ Executive Director Joe Concra, co-founder and dentist volunteer Dr. Thomas Cingel, O+ Clinic Director/Nursing Specialist Shannon Donnell and alumni musician Laura Hajek.
It was also one of many Kingston-based activist organizations featured in a column in The Guardian in late October. And The Berkshire Eagle reported from O+ North Adams in May.
Click on the Press page of the O+ website to read some of the other recent coverage of the organization.
The YMCA of Kingston and Ulster County honored O+ and its co-founder and Executive Director Joe Concra with the Social Responsibility Award at the annual Bow Ties & Blue Jeans annual dinner in March. The YMCA is home to two O+ murals and is a partner in cycling events during the annual O+ festival in October. In 2019, the YMCA was one of the NEIGHBO+R Fund partners that helped O+ distribute free festival wristbands to community members. 
The Berkshire Trendsetter Awards honored O+ North Adams festival director Jess Sweeney as the Under 40 Change Maker — "a community member under 40 with proven leadership, team building, and problem-solving skills and who has a heightened awareness of key issues affecting Berkshire County." In addition, O+ North Adams was a finalist for the Innovative Marketing Campaign award.
"Joe Concra is an advocate for better healthcare access for all. He has boldly and artistically pushed the issue of public health care forward, creating awareness and support for change. We are thankful for the vision, determination and passion Joe Concra and the O+ Festival give to our community. They are an agent for change."
— YMCA'S HEIDI KIRSCHNER
In 2019, O+ employed three full-time staff and seven part-time staff: 
Executive Director – Joe Concra
Director of Operations – Aimee Gardner
Director of Communications – Kathleen Murray
Wellness Director / O+ Kingston Clinic Director – Shannon Donnell, RN
Director of Music – Jeff Mercel
Art Co-Directors – Denise Orzo & Jesika Farkas
Program and Sponsorship Assistant – Molly Sterrs
Alumni Engagement Director — Holly Kelly
Development Manager — Kim Faraci
O+ also paid stipends to festival committee chairs/members and worked with a number of independent contractors, including:
Web/IT/Graphic Design Director – Lauren Gill
O+ Kingston Festival Director — Sarah Van Buren
O+ North Adams Festival Director – Jessica Sweeney
O+ Radio Hour producer/O+ Kingston box office coordinator – Nicole Digilio
In 2019, O+ welcomed two new Board of Directors who were longtime supporters of the organization. They are: artist and philanthropist Don Johnson and former O+ team member and festival volunteer Micah Blumenthal.
"I support O+ because it gives back to artists for their contributions to community by connecting them to vital holistic health services"
— Don Johnson, sculptor and O+ board member
David Ping – Board Chair
President, David Ping Group
Micah Blumenthal – Board Member
Worker Trustee, Good Work Institute
John Cappello – Board Member
Land Use, Environmental & Municipal Lawyer, Jacobowitz and Gubits, LLP
Justin Goldman – Treasurer
Financial Services, The Bank of Greene County
Don Johnson
Sculptor
Dawn Morrison – Board Member
Executive Director, NDH Foundation
Michael Pisacane – Board Member
Owner, MAP Financial
Amy Short – Board Member
Consultant, Mountain Crone Corp.
Susan Von Reusner – Board Member
Principal Attorney at The Law Office of Susan C. von Reusner PLC
Statement of Financial Position 2019
| | |
| --- | --- |
| | |
| Net Assets less Liabilities | |
REVENUE – TOTAL: $665,393.62
EXPENSES – TOTAL: $675,514