Free Festival in Kingston, NY
to take place October 8-10
KINGSTON, NY September 15, 2021 — Indie pop stalwarts The Magnetic Fields and "first lady of graffiti" Lady Pink headline the 11th O+ Festival Oct. 8-10 in Kingston, N.Y. The unique weekend connects participating artists and musicians with vital healthcare, mental healthcare, dentistry and wellness services. Through the generosity of many supporters, this year's festival is free to the public.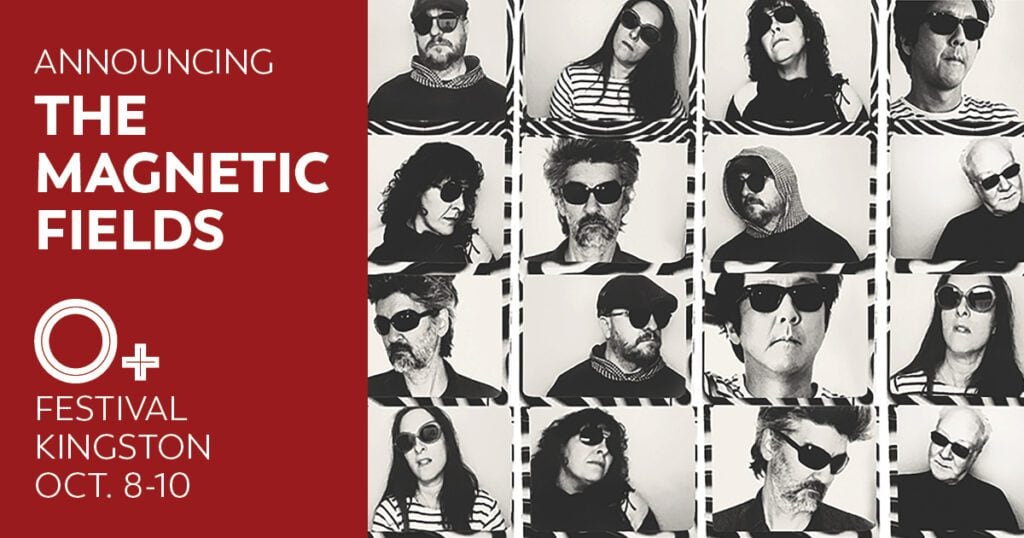 O+ (pronounced O Positive) Festival Kingston is a citywide celebration of life while holding space for the complexity that comes with the collective, and personal, trauma of the past year and a half. The weekend will offer joy and connection which are, like this year's theme of O+ygen, essential to our ability to thrive as a community.
O+ Executive Director Holly Kelly says of this year's festival: "We can't wait for the community to experience the incredible outdoor and free offerings of art, music and wellness at O+ in October. O+ is different from other festivals because artists and musicians who participate receive healthcare services in exchange at the O+ popup clinic."
Participating solo artists, bands and ensembles include: Proper (hip hop rap / rock, NYC); Teenage Halloween (power pop, NJ); Pedazo de Carne con Ojo (hip hop / experimental, Philadelphia); Ceschi (progressive hip hop / folk, CT); Tierra del Fuego (rock / indie, NYC); Shana Falana (psych rock / shoegaze, Kingston); Breanna Barbara (blues singer-songwriter, NYC); Toebow (cartoon psych pop, NYC); Bobby Chaniel (hip hop / R&B, New Paltz / NYC); Jelly Kelly (post-punk art rock, Kingston); SSuperDirrtyDom (hip hop / rap, Kingston); BattleaXXX (hard rock, Albany); Denmark (indie rock, Kingston); Out of System Transfer (anarcho-folk-punk, NYC); Luella Roche (singer-songwriter, Kingston); Geezer (doom / heavy blues, Kingston / NYC); W.S.A.B.I. (performance art prog, NYC); Battle Ave (indie rock, Poughkeepsie); Shayna Blass (indie folk, Kingston); Caprice Rouge (world music, Kingston); COUPY (indie rock, NYC); Shenna (pop / R&B, NYC); Clone (indie rock, NYC); 9 Horses (improvising chamber ensemble, Beacon / NYC); and Carinae (psych rock, MA).
Participating mural, performance, interactive, installation and fiber artists include: Marilyn Arsem (site-responsive performance, MA); Paula Josa-Jones (performance, CT); Ann Lewis (mural, Detroit); Brian Kaspr (mural, CT); Marielena Ferrer (participatory practice / installation, Kingston); David Najib Kasir (mural, WI); Stephanie Loveless (participatory / installation, Albany); Kat Howard (fiber art installation); The D.R.A.W. (Kingston); Elisabeth Motley (live-art choreography event, Brooklyn); Hudson Valley Bee Habitat (hands-on workshop, Kingston); Khonsu X (experimental participatory soundscape, PA); Cave Dogs (video installation, Bloomington); Diana Steinberg and Naomi Steckman (pop-up performance, MA); and Molly Lindsay and Dina Kravtsov (mural and workshop, Kingston); and Performance sin Miedo/Performance without Fear (participatory performance, Kingston).
A festival highlight will be a screening of Street Heroines, a highly anticipated, festival-bound feature documentary film by Alexandra Henry about the courage and creativity of female street artists from around the world, featuring this year's O+ muralists Lady Pink and Ann Lewis. Art offerings also include the Literary SalO+n featuring beetle bailey (Kingston), Carolita Johnson (NYC), Sara Benincasa (NYC), Onnesha Roychoudhuri (Kingston), Hayley Downs (Kingston) and Cristopher Livecchi (Kingston). 
O+ audiences are invited to ExplO+re a variety of wellness offerings, including Qigong, foundational concepts of Chinese medicine, a cooking class, sound healing and digital resilience. There will be a gravel bike ride as well as a mural bike tour.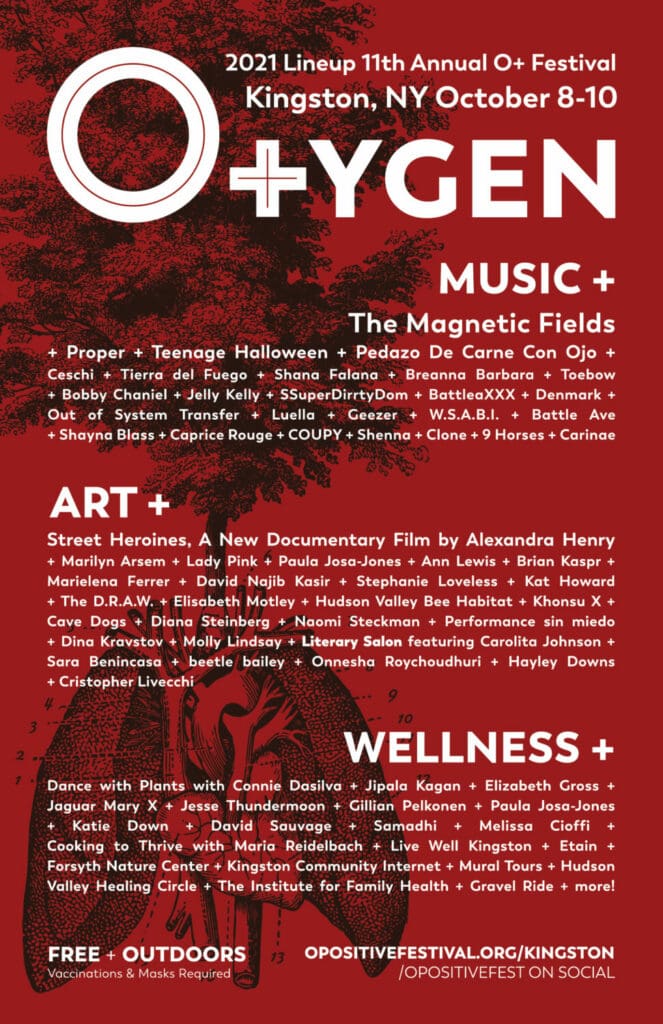 The 11th O+ Kingston kickThe 11th O+ Kingston kicks off at the Kingston Library with a parade through midtown and uptown on Friday, Oct. 8. The weekend's venues (outside as much as possible) include Academy Green, Good Work Institute, Keegan Ales, Kingston Greenline, Old Dutch Church grounds, YWCA, Samadhi Recovery Outreach Center and The Yoga House. The footprint of the festival expands a bit this year to the Town of Ulster with Sunday concerts at Blueprint arts collective, located at the former IBM complex. 
Participating artists and musicians, many of whom are uninsured or underinsured, will receive health and wellness services in the O+ Artists' Clinic, located at Bethany Hall inside Old Dutch Church. Offerings include primary care, nursing, mental health counseling, osteopathy, dermatology, massage therapy, acupuncture, chiropractic care, naturopathy, physical therapy, sound healing, Reiki, Tarot and more. Dental care will be provided in local provider offices.
Proof of a Covid-19 vaccine for those 12 and older is required for entry to all indoor and outdoor events. Masks are required. Those under 12 may attend if masked.
O+ is preO+ is presented by WMC with support from Golden Mural Paints, Del's Roadside and Dairy Creme, Institute for Family Health, Athletic Brewing, The Barns Art Center, Rough Draft, Keegan Ales, Abandoned Cider, The Bank of Greene County, Stewart's Shops, Radio Kingston, Catskill Art Supply, Thesis Bikes, Fruition Chocolate, The Kinsley Hotel, the many volunteering health professionals and the Tides Foundation. 
RSVPs requested, but not required