Gregory Stovetop has a unique vantage point of the O+ Festival as an attendee, a festival alumnus, and most recently, as a member of the 2023 music committee.
He says he first picked up a bass guitar as a pre-teen after he saw his cousin learning to play, and his lifelong relationship with music and art only blossomed from there. He jokes that picking up an instrument at the age he did probably kept him out of trouble as a teenager.
"My focus was on music," he says, reflecting on his adolescence. "It's the community thing. It's so vast – almost like a secret language you're learning that only musicians know."
He was first introduced to O+ through fellow musician, writer, and O+ alum Richard Buckner back in 2017, shortly after he'd relocated to Kingston from Brooklyn and was looking to make connections within the music community here in the Hudson Valley. He applied to O+ as a solo artist a few times and was selected to play as part of the 2022 festival.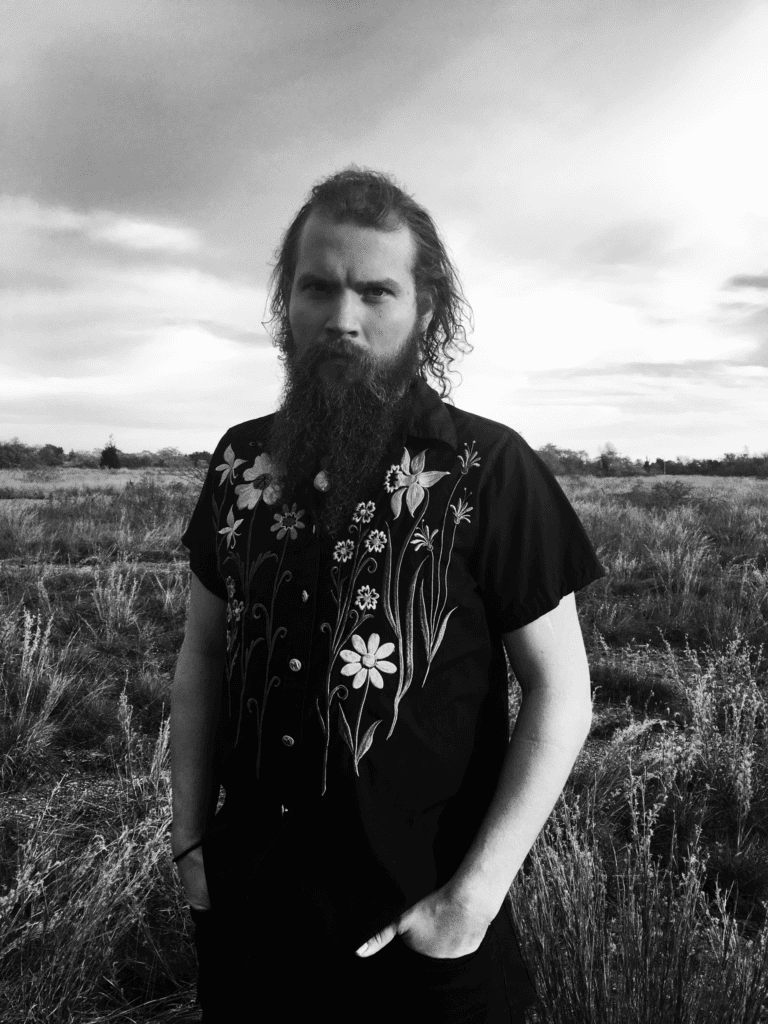 Even though he felt like he was familiar with the festival, having attended and volunteered during prior years, Gregory says he was surprised by what the experience was like behind the scenes.
"I didn't understand what O+ was until I actually played the festival. I was amazed by the amount of services I got," he says, referring to his time at the Artists' Clinic, where all performers and volunteers access a variety of health and wellness services in exchange for their contribution to the festival.
"I just took one day. I started with my teeth cleaning, I got a chiropractic adjustment, I got a massage, and I had a shamanistic counseling session," he adds. "Having that access alone was so huge…I don't even know what the dollar amount equivalent to that would be."
Greg says that spending time in the company of other performers, but also with the broader Kingston community, was equally healing.
"There was just this unity. Everything was chill, there wasn't stress…sometimes festivals can be overwhelming because there's too much going on," he says. "I love that at O+ the health aspect was the objective. You play your music but also get to treat yourself to the support from this community of healthcare providers…I just loved that health was the front-and-center thing rather than a little footnote."
He also says that the care he received at The Artists' Clinic gave him a gentle nudge to be more proactive in certain aspects of his health. An energy work session prompted him to make some nutrition changes to better support his liver, and a routine dental cleaning made him feel like a new person.
"Dentistry is one of those things I neglect…I'm not a good flosser," he says with a laugh. "Getting my teeth cleaned hurt but I felt like I had new teeth afterward. Just seeing somebody and getting that push was helpful."
Greg says that he's always been a "self-help" kind of person when it comes to his health and is often drawn to alternative and complementary therapies. But sobriety is what really pushed him to better prioritize self-care and to be more active in tending to his physical, mental, and spiritual well-being.
"Before sobriety, healthcare was nonexistent – I didn't seek it unless it was an emergency," he says. "There was lots of neglect…in this world, it equates to money and it equates to debt and so you avoid it until you absolutely need it."
He still often grapples with his own skepticism about our healthcare system but says that his sobriety journey taught him how to ask for help – and receive it.
"The biggest power move for me was the realization that I needed to take care of myself or I was going to burn out on all levels if I continued," he says. "Falling or flying, there is this surrender you have to always come to."
I love that at O+ the health aspect was the objective. You play your music but also get to treat yourself to the support from this community of healthcare providers…I just loved that health was the front-and-center thing rather than a little footnote.
Part of his self-care practice also involves being an active member of the community through volunteering, which has been a jumping-off point for him in making new friends and connections.
"I always encourage people to volunteer. Even last year when I played at the festival, I still wanted to volunteer on the days I wasn't playing," he laughs. "The benefit is strengthening your community…it's hard to put in words. You meet a bunch of people you wouldn't normally meet, and you're bridging new relationships. It's a wonderful thing to do."
That attitude also drove him to join the 2023 O+ Festival music committee, a rotating team of local musicians, promoters, and creatives who help to curate each year's lineup. Gregory says that serving on the music committee gave him a whole new appreciation for the work that goes into the festival.
"The first thing I did after going through [music] submissions was thank everybody on the committee last year for picking me because now I know how hard it is," he laughs.
The submission-to-selection process takes around four months and involves a lot of deliberation and research. Committee members spend a lot of time poring over submission materials and links to music and past performances. For the 2023 festival, he says the committee reviewed more than 200 submissions, which they then had to curate into a lineup of 40 bands and solo artists. In keeping with O+'s mission to uplift local talent, the committee prioritizes musicians and bands from the Hudson Valley, as well as people who are in need of healthcare services.
"It's so hard to narrow it down…you have to take yourself and your personal tastes out of it so you can think about the bigger picture," he says. "You're setting up a weekend of music that you want people to be excited about and have fun with at the end of the day."
He says the experience of sitting on the music committee turned him on to a lot of cool music but also taught him a lot about how to market himself as a musician to wider audiences. For other musicians who might be interested in applying to future festivals, Greg has simple advice.
"Represent yourself down to every detail. Make sure that what you're sending musically and video-wise is what you're gonna serve when you come," he says. "Just be very authentic to yourself and your mission."
Gregory Stovetop is a visual artist and musician living and working in the Hudson Valley. You can check out his work and learn more about upcoming shows at https://www.gregorystovetop.com/