O+ joined its partners from the Poughkeepsie Alliance and Arts Mid-Hudson along with representatives of government, the local business community and city residents to celebrate the unveiling of the 16,000-square-foot Poughkeepsie Gateway mural on Aug. 15. The work of art was made by boogieREZ (Risa "Boogie" Tochigi and Rez Ones) and features whimsical creatures, colorful pop culture imagery and words like "Impact — Inspire — Empower" and Poughkeepsie references like "PKNY — Queen City — 845" on two sides of the Route 9 underpass on Main Street.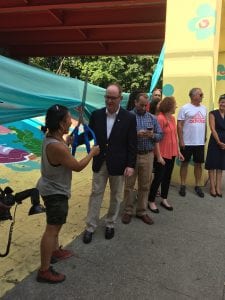 "This was once kind of dimly lit. It was rather dark and uninviting, and it was on the busiest corridor probably right here in the city of Poughkeepsie," said Mayor Rob Rolison. "Now this spot has been transformed into a place of color, and it's full of life."
Golden Paintworks, a division of O+ sponsor Golden Artist Colors, donated the gallons of paint needed to transform the underpass and RL Baxter Building Corporation loaned the lift. Sherwin-Williams Paint Store in Poughkeepsie and Rider Painting assisted the project with the priming of the massive mural.
Paul Calogerakis, director of economic development for the City of Poughkeepsie and founding chairman of the Poughkeepsie Alliance (which provided the bulk of the funding for the project), described the mural as "exactly what we envisioned. It's a bright and colorful entranceway to the city of Poughkeepsie, and we're just thrilled."
State Sen. Sue Serino (R-Hyde Park) presented Tochigi with a proclamation from the New York State Senate: "It is the sense of this Legislative Office to honor those individuals of artistic significance which highlight the creative talents that have contributed to the cultural enrichment of our communities and our Nation."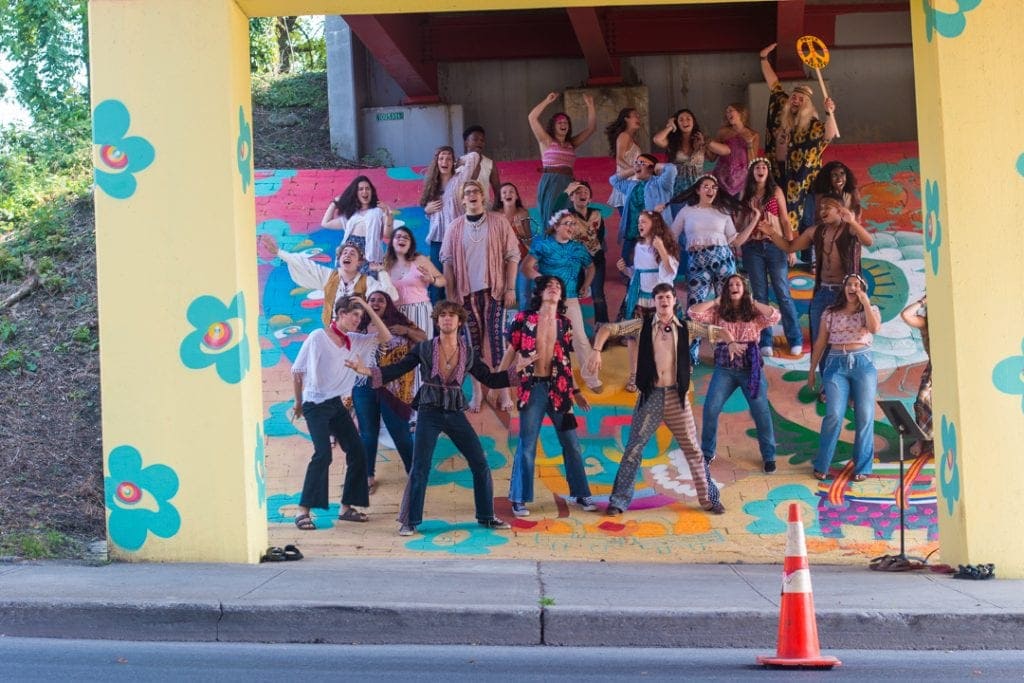 In an Instagram post, Tochigi thanked Mayor Rolison, project partners, equipment and paint donors and the Poughkeepsie community for their constant support: "The good vibe we generate and spread is the best medicine for our MIND, BODY and SOUL!!! We are all ROCK STARS!!! Let's keep on making, imagining and inspiring one another!!!"
Watch a video of the unveiling here: