Art and music submissions are now open for the first O+ North Adams, which takes place May 10-11, 2019. The festival theme is "Home."
Creatives chosen to install artwork or play a concert during the festival will receive health and wellness care at an Artists' Clinic staffed by art-loving volunteer providers. O+ (pronounced O Positive) calls this exchange: the art of medicine for the medicine of art.
Bands, ensembles and solo artists should apply for music here.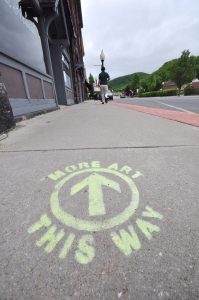 Artists: submit here to propose a public mural. For other art-related work such as community conversation, exhibition, film/video, installation, performance or workshop, submit here.
O+ North Adams organizers are also seeking general festival volunteers and EXPLO+RE wellness class teachers.
North Adams building owners who have a wall that would be the perfect canvas for an O+ mural should submit here.
Submissions for music and mural art / other art proposals close on the evening of Jan. 5, 2019. The O+ North Adams curatorial team looks forward to reviewing them!
O+ North Adams is sponsored by Berkshire Health Systems. The growing list of festival partners include: Common Folk, City of North Adams, Northern Berkshire Community Coalition, Golden Paintworks and MASS MoCA.