O+ alumni artists Jalani Lion and Dina Kravtsov, assisted by fellow alumnus Matthew Schulze, in the last two weeks collaborated on a mural that memorializes and honors Black lives, calls for an end to systemic racism, racial violence and police brutality, and offers healing to those who have endured these inequities for generations. The mural is located at 695 Broadway, the future home of Radio Kingston's community/performance space.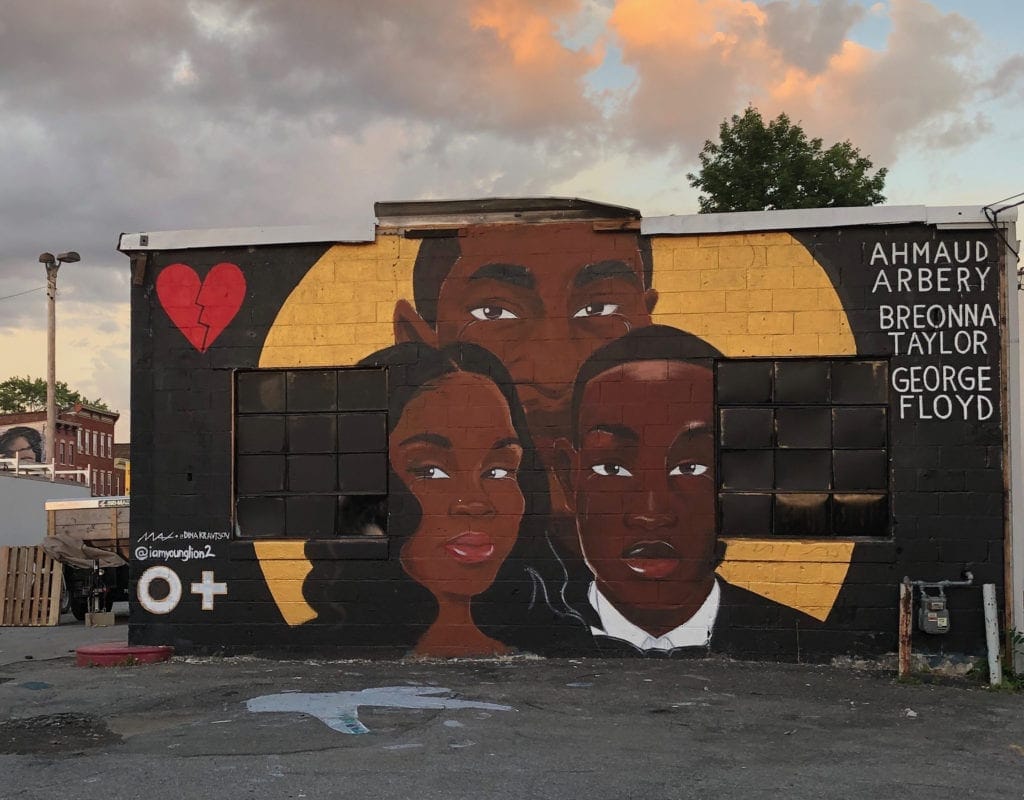 "The Black Lives Matter mural depicts three unarmed African Americans who were killed at the hands of police/former police — the victims' names are Breonna Taylor, George Floyd and Ahmaud Arbery," Jalani Lion says. "As tragic and heartbreaking as each of these recent deaths are, it can be said that the loss of these people caused a modern day revolution in America, and even the world. With protests, riots and support from all over the globe, American police are now being held accountable for their actions, racists are being exposed, and justice is starting to be served. It is my hope that this mural can provoke thought and emotion on this country's recent events. I hope it can serve as a symbol for positive change in the country, as well as the city of Kingston."
Jalani Lion (above), who is a 2019 O+ music alumnus, also painted the "In Memory of Adam (Jeff) McQueen, Kaireem Meeks, Jr., Dante Crump, Jonte Clark & Jeffrey D'Aguilar" mural on Franklin Street in 2015.
In the new mural, his portraits of the late Breonna Taylor, George Floyd and Ahmaud Arbery are complemented by Dina Kravtsov's paintings of resilient and medicinal Hudson Valley plants, including chicory, cosmos, lavender, mullein, St. John's wort and dandelion.
"Mullein, painted on the central column, is extremely adaptable and strong," Kravtsov says. "It is a respiratory herbal ally; it is extremely resilient; and it has lit the paths of many footsteps; for these reasons it felt like a perfect plant symbol for this movement.
By the doorway, Kravtsov (who painted the "Shadow Guide/Shadow Self" mural at 693 Broadway with Schulze in 2018) has painted a hand stretched out from beneath a cosmic cloak holding a lantern, illuminating the Black Lives Matter movement. "The cross section of the earth beneath allows one to see how deep the roots of the plants go and that they are intertwined," she says.
Kravtsov says she hopes the mural sends a strong, clear message.
"I hope the Kingston community and beyond rise up together to foster justice, healing and reparations for BIPOC," she says. "I hope this artwork supports that movement and reminds us to always stand up for injustice; understanding that we are all more resilient when we are united in growth, love and compassion."
Holly Kelly, executive director of O+, says the mural is a reminder that collective action and sustained anti-racism work is the only way to break down systems and create lasting change.
"Thank you so much to Jalani, Dina and Matthew for this powerful art that represents the movement for Black Lives and calls to end police brutality and for police accountability," Kelly says. "These portraits reflect this moment in time, but there are too many people who could be featured here. It is my hope that this mural provides a space for people to collectively mourn and also find strength for the ongoing struggle. We will continue to demand change and fight injustice. There's a lot of work to be done."
The Black Lives Matter mural is located at 695 Broadway, the future home of Radio Kingston's community/performance space.
"Broadcasting is a shared space – or should be: the airwaves belong to everyone," said Jimmy Buff, executive director of Radio Kingston. "Similarly, the Radio Kingston facilities belong to the community too. We're grateful to O+ and to Jalani, Dina and Matthew for creating a deeply moving memorial to three people who lost their lives to police or racist violence, and we stand in support of police reform and Black Lives Matter."
All paint for the project was donated by Golden Paintworks, a longtime supporter of O+.