Art will be installed in uptown Kingston storefront and gallery windows Sept.12 – Oct. 25 as part of PO+p Up 2020, an exhibition celebrating artists who have participated in O+ Kingston festivals and supported the work of O+ between 2010 and 2019.
The walk-by exhibition provides an opportunity for the Kingston community to experience art socially distanced and outdoors while connecting independent artists with potential buyers.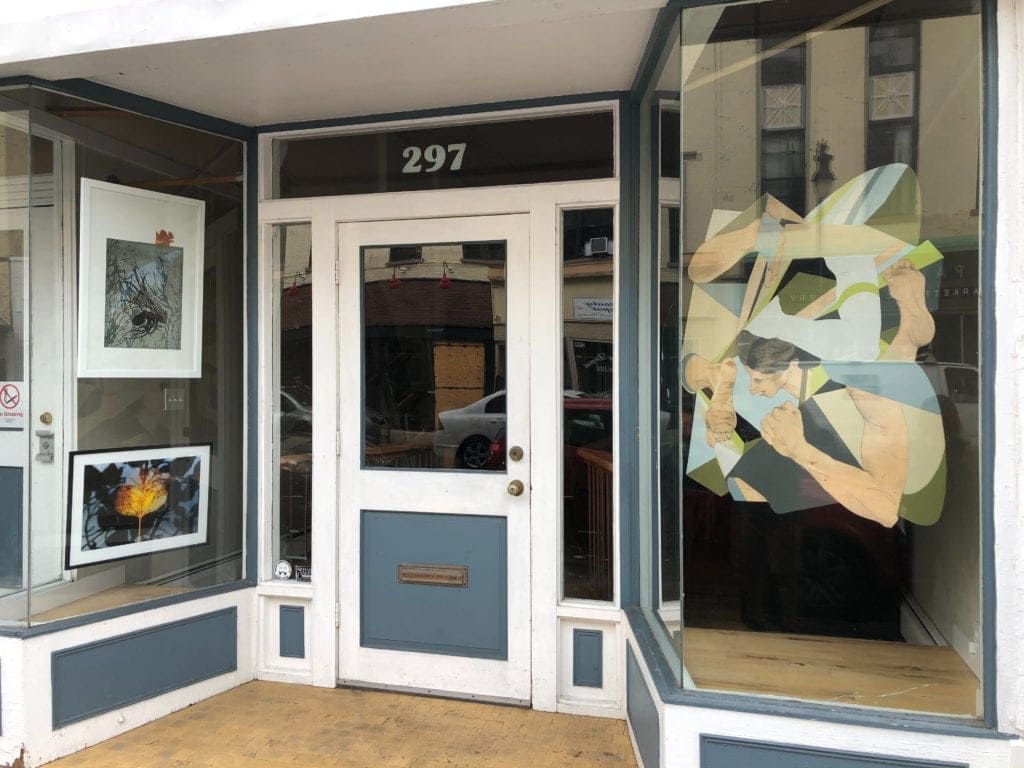 "The COVID-19 pandemic has meant the cancellation of gallery openings, conventions and commissions, leaving many independent artists facing financial hardship," says Jesika Farkas, who is organizing the exhibition with O+ board member Michael Pisacane. "All the artworks in the windows are available for sale directly from the participating artists."
PO+p Up 2020 artists include: Scott Ackerman (2014 plywood mural installation), Chewy Altamarino ("Journey of the Orange Manatee" 2019 murals installation), Vince Ballentine ("Moving Mountains" 2017 mural), Jane Bloodgood-Abrams ("Vignettes of Home" 2017 mural), Tyler Borchert (2013 found stone and driftwood sculptures), John Breiner ("From the Ground Up" 2016 mural), Jacinta Bunnell ("Big Gay Alphabet" 2015 participatory art), Scott Chasse ("XO" 2019 mural), Joe Concra (O+ co-founder), Kenley Darling ("XO" 2019 mural), Erika DeVries (2017 and 2019 neon installation), Alexandra Dewez ("Crossings" 2019 multi-media installation), Marie DiPerri (2019 Gallery Fifty5 venue partner), Samantha French ("Late Summer Kill Swim" 2018 mural), Michael Fusco ("Robin X" 2019 mural), Gaia ("Artemis Emerging from the Quarry" 2013 and "Pronkstilleven" 2015 murals), Aaron Hauck ("Late Summer Kill Swim" 2018 mural), Paul Heath (2011 wheatpaste, 2012 mural), Jessie and Katey ("Bops & Tottoms" 2015 mural), Carolita Johnson ("Favorite Martians" 2015 and "X Marks the Spot" 2019 installations), Don Johnson (O+ board member), Dina Kravtsov ("Shadow Guide 2018 mural), Lady Pink ("Native Americans Discover Columbus" 2016 mural), Polly M. Law (2012 exquisite corpse and video art), Will Lytle ("Atlantic Sturgeon" 2012 and "Queen Gate" 2018 murals), Norm Magnusson (2011 "historical markers" installation and 2016 exhibition), Denise Orzo (O+ cofounder/director of art, 2011 wheatpaste), Matthew Pleva ("The Hobgoblin of Old Dutch" 2014 and "The Rondout Effect" 2017 murals), Annabelle Popa ("Secrets of the Wetlands" 2019 mural), Giselle Potter (2011 wheatpaste, art committee), Carla Rozman (2010-2015 design work, volunteer), Stefan Saffer ("Share a Chair" 2019 participatory art), Mat Schulze ("Shadow Guide" 2018 mural), Simi Stone (2013 music), Stetz ("Fishbone" 2016 mural), Suzanne Stokes (Cave Dogs shadow-based performance), Ruth Wetzel (2011 and 2012 wheatpaste) and Lindsey A. Wolkowicz ("Lifted" 2018 mural).
In addition, the exhibition features work by artists who have supported the O+ mission and work. They include Edward Columbia, Kevin Falco, Geraluz and WERC.
Those interested in purchasing can scan the QR code of a piece for price, to learn about the artist, and to be connected to the artist for a direct sale.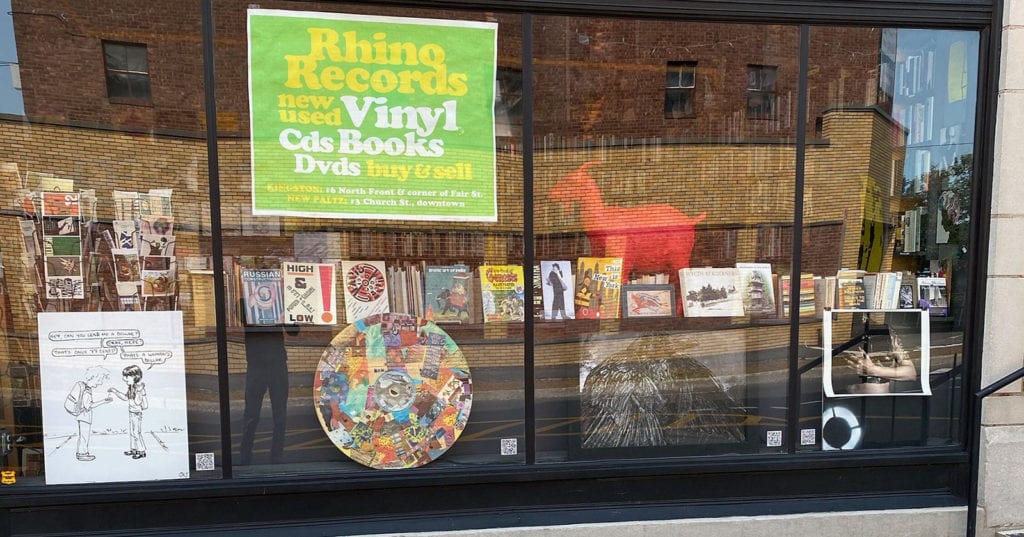 View art in the windows of Uptown Coffee (288 Wall St.), Sweet Maresa's (291 Wall St.), 299 Wall St. (former home of Duo Bistro and Duo Pantry), ExitNineteen (309 Wall St.), Outdated (314 Wall St.), Jon Hoyt Realty (326 Wall St.), Rhino Records (6 North Front St.), 31 North Front St., Half Moon Books (35 North Front St.), Rage Hair Salon (40 North Front St.), Pinkwater Gallery (56 North Front St.), Conscious Co. (58 North Front St.), Hamilton & Adams (32 John St.), corner of Fair and Main streets, and MVN Design (38 Main St.).