There's so much art being performed and produced at this year's O+ Festival that we cannot possibly list it all. But click HERE, then tap the ART button at the right and see everything art-related in Kingston this weekend. Make sure that between your favorite (or soon to be new favorite) bands you make time for dance, spoken word, film, murals and more. Below, are a few of the artists, workshops, and performances that highlight community engagement, offering the public an opportunity to deepen their understanding and/or be directly involved in art as an experience within the collective space that we all share.

Ramiro Davaro-Comas + Super Stories Positive Messages Spray Painting Workshop, Sunday Oct. 9, 12-2 pm, YMCA Kingston, 507 Broadway (in the parking lot off of Pine Grove Ave.)
Ramiro Davaro-Comas is an Argentine/American artist with a background in public art and artist residency management. He has been the creator/director of Dripped on the Road, a traveling artist residency program since 2016 and is the Co-Director of Super Stories, an organization he launched with artist Grace Lang that focuses on art-centered storytelling projects in community spaces. He has created a new mural filling the Child Care Center entrance of the YMCA for this year's O+. On Sunday, Oct. 9 from 12-2 pm, Davaro-Comas and Super-Stories will run a workshop on the art of spray paint, teaching different techniques while asking participants to paint positive messages on plywood walls.* The works will then get donated to the community to be displayed beyond the festival. 
*Workshop is geared towards elementary through high school aged young people.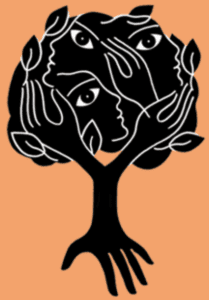 Theater of the Oppressed Workshop with S. Leigh Thompson, Sunday Oct. 9, 12:30-2:30pm, 209 Fair St., Fair Street Church Yard (off of Pearl St.)
Theatre of the Oppressed (TO) is a political framework and theatrical method, less about performance and more about creativity, play and exploration. What is created is tied to who is in the space. TO gives people tools to imagine and recreate their world by engaging in discovery, critical reflection,  dialogue and the process of liberation. In this workshop participants will be invited to stretch the limits of their imaginations, de-mechanize habitual behaviors, analyze social and political issues that are important to them and imagine a world of liberation. S. Leigh Thompson is a facilitator, community organizer, equity strategist and coach and the Interim O+ Board Chair. He has worked at the intersections of art and activism for over 20 years working with communities to develop creative tools to address issues of power, privilege and oppression and attend to oppression-based trauma.
*Best suited for adults and mature teens.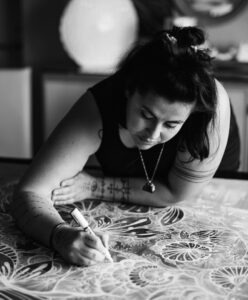 Blooming Colors, a new mural at the YWCA Ulster County, 209 Clinton Ave. by artist Pau Quintanajornet
Pau Quintanajornet is an international public artist and the co-founder of an ambitious multifaceted ongoing production called Project Wallflowers, which began as a series of murals in Patagonia and has subsequently proliferated as work with other artists in collaboration globally. The Chilean-born Quintanajornet's work can be found all over the world. In Kingston her vibrant, bold, organic style will be put to work on a wall on the Maiden Lane side of the YWCA building. Pau will also be working with the children and teachers of the Magic Circle School at the YWCA Ulster County, to create their own interior mural based off of Project Wallflowers. Autoflorecer, as she calls these community engagement projects, is an exercise in self-empowerment through artmaking for community members of all ages that will encourage them to "bloom from the inside out" by creating together and that remind them that, "although we are different, we all bloom together in the same garden."
A new mural, called "Undomesticated," at People's Place, 17 St James St., with artists The House Opposite (Ana O'Keefe and Allie Fair Keel)
Ana O'Keefe and Allie Fair Keel draw inspiration from feminist surrealists and historic female artist collectives, building on their friendship and experience as mutidisciplinary producers to create in collaboration as The House Opposite. The duo were in art school together but their ability to co-create has come about almost by coincidence—learning that each was once again living nearby in Ulster County, and much more rooted to our community, with both of them becoming mothers nearly on the same day. 
Their work on the nearly 80-foot-long wall at People's Place reflects those ideals, incorporating themes of home, bounty, and above all, care for the community. The purposefully warm work also reflects an ideal of People's Place — that no adult, but especially no child, should feel privation, and that only as a whole can Kingston, Ulster County, and the nation provide for all of our needs.
And Don't Miss the Friday Night Film Screening 
Friday Oct 7th at 7:30 pm, outdoors at the YWCA, 209 Clinton Ave.
Watch the Trailer HERE