At O+, we talk about the healing power of art, but singer-songwriter (and 2022 O+ Festival alum) Roxiny is the embodiment of just how impactful that can be.
Roxiny has been a musician for practically her entire life. Born in the Dominican Republic and raised in Spain, music has been a constant source of inspiration. "I started making music probably about as soon as I could talk," she jokes. In high school, she says she started to get more serious about her craft and developed a more defined identity of who she was and who she wanted to be as an artist.
She went to school to study International Relations – in some ways, she says, to appease her parents, who weren't quite comfortable with the idea of their daughter pursuing music full-time – but she kept on making music. While she was still in school, she got a call from Sony asking her to come out to New York City – an offer that would help kick off her career in music. She boarded the flight and never went back.
The deal with Sony was a major milestone, but she eventually left the label over creative differences. "What they wanted out of me was very much what I'm not…I've always had a sense since I was really young that authenticity has really been a big deal to me," she says. "I just felt like I wasn't in my skin the whole time."
Still, she says she learned a lot about the business of music, and that education laid the foundation for her to start her own independent label and build the creative support team she collaborates with today. "I just went for it…and now I'm in a really happy place," she says.
While music had always been her preferred conduit for expression, as she matured as a singer/songwriter, Roxiny learned how instrumental it would be to her own personal healing as she began to reckon with the childhood sexual abuse she'd experienced.
Like many survivors, Roxiny says she spent most of her young adulthood suppressing memories of her abuse, but over time she realized that this wasn't sustainable. "Music is my lifeblood, but I feel like the big motivator for me, and the things that I had to get through in order to create the kind of music that I felt was authentic to me, required a lot of healing in order to produce."
Roxiny says the first step was just being able to get honest with herself in terms of confronting not only that the abuse happened, but also recognizing the deep impact it had on her. "It took a long time to get to a place to feel comfortable speaking about it," she says. "Once I was finally able to come to that space, I could finally express what I felt about it."
When she did get to that place, music was a way for her to unpack that trauma and begin the ongoing process of recovery. At O+, we often talk about the therapeutic effects of art – how sometimes, art and music can be a salve. Roxiny's experience showcases how integral art is to well-being.
I feel like music is a tool that empowers many of us when we go through whatever in life, whatever traumas we experience. Music has a real potential to heal.
Roxiny was first introduced to O+ through a friend and collaborator who encouraged her to apply. When she arrived in Kingston for the 2022 festival, she said she was excited to see that there was a space that was shedding light on the fact that artists aren't able to get the healthcare and the assistance that they need.
"I think it's such a wonderful assistance for artists because, you know, we go through a lot/ There's a lot of ups and downs, and there's not a lot of stability in [this work] in a country that doesn't provide a lot of support for artists," she said. "For many of us this is a labor of love and we can't see any other way of doing it, so we do the best we can, right? To see that there's this space that supports the basic needs of an artist…I was really excited to see that."
Like all O+ Festival participants and volunteers, Roxiny was able to access the Artist's Clinic, which offers a variety of primary and complementary care services from local and regional providers. Roxiny says she was blown away by the amount of services available and how nurturing the environment felt for her.
"Overall it was this incredibly healing weekend," she says, sharing that she was able to receive energy work and see a naturopath who'd helped her deal with some digestive issues that hadn't been addressed since the pandemic began.
"I came back a new person from the festival..it was really like getting taken care of for once," she says. "So often as artists, we're giving. We're giving so much of our energy, so much of our creative expression, and to just sit back and have others take care of you, it was really something for me…It was a kind of magical couple of days."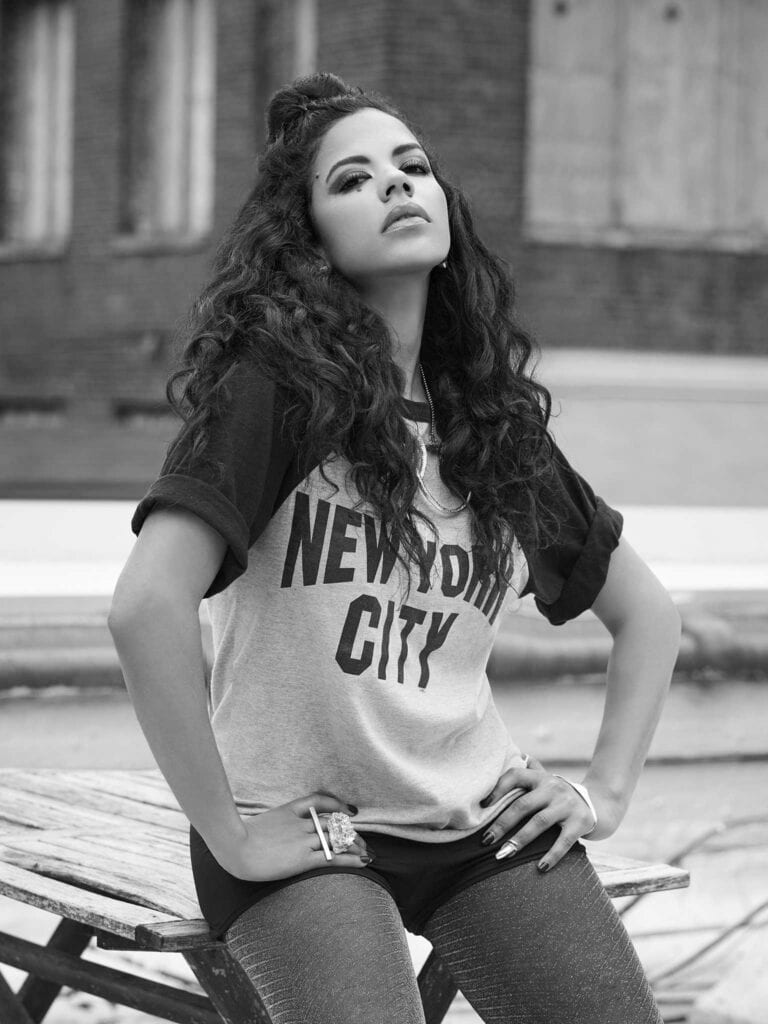 Sharing the experience with other artists and performers was especially poignant.
"It really felt like I walked into this kind of utopia….I got to see all of these artists on stage, and then see them go through the same process [at the clinic]." She shares an experience of receiving a reiki session while a sound bath was being conducted outside in the graveyard of The Old Dutch Church. "I felt like my body just, like, shot off into another realm," she laughs.
As a working musician, this type of care hasn't always been within reach. Thinking about her own healing journey and coming to terms with her sexual assault, Roxiny reflects on how much more helpful it would have been if she had been able to access mental health services during that time.
"I would have benefited from seeing a therapist…it probably took me a lot longer to heal than maybe it should have," she says. "I used to put myself through a lot of terrible shit just because I didn't know how to deal with what was happening inside me, and maybe I could have skipped a lot of that and began healing in a positive way much sooner."
She says she was fortunate that she had a good support network and strong family foundation to lean on when she needed it, but recognizes that this isn't available to everyone, which only underscores how vital that access to care is.
When she thinks about those "dark years" (as she calls them) – not to mention the challenges that arise over time as a working artist, a survivor, and a parent – she says that key self-care practices like energy work and meditation help her maintain equilibrium, but it's her activism and art that connects her to purpose.
Since coming to terms with her sexual abuse, Roxiny says she was called to help others, especially women and girls, who have gone through similar experiences. She's partnered with several NYC-based organizations like the Girls Education and Mentoring Service (GEMS) and the Violence Intervention Program (VIP) to offer music and songwriting workshops and other resources to help survivors find a sense of safety and healing.
"My activism, which stems from my own experiences, impacts everything about me, " she says. "I felt this need to help other girls and women who have been through similar experiences kind of walk over that bridge," she says.
Art can be a conduit and a way to give shape and voice to things and experiences that people don't have the language to talk about. This is what Roxiny hopes to achieve through her activism and advocacy work.
"It was a really eye-opening, powerful, incredible experience for me…I was able to listen a lot and be in this sisterhood of sorts and at the same time, be there for support and empowerment," she says of her work with GEMS and VIP.
"And it wasn't just me, it was the music. I feel like music is a tool that empowers many of us when we go through whatever in life, whatever traumas we experience. Music has a real potential to heal."
Roxiny is currently working on her first full-length album, which will be released on October 11, 2023, timed to coincide with International Day of the Girl. Earlier this year she put out her first Spanish-language single, "Ni Santas Ni Putas," an ode inspired by women in Latin America and around the world who are taking to the streets to protest femicide and violence against women.
The video for "Ni Santas Ni Putas" drops on May 19th. You can check it out and get more info on Roxiny's upcoming shows and album at Roxiny.com, or on YouTube, Instagram, TikTok, or Twitter.