In 2020, as a local response to the murder of George Floyd, the latest in a long line of Black people killed by police, and to the broader outcry around the epidemic of racial violence and white supremacy in the U.S., three Kingston-based artists and O+ Festival alumni collaborated on a mural on the building at 695 Broadway.
In "Black Lives Matter," Jalani Lion's rich portraits of the late Breonna Taylor, George Floyd, and Ahmaud Arbery are set among Dina Kravtsov's paintings of resilient and medicinal Hudson Valley plants, with lettering by Matthew Schulze painted throughout. The image memorializes and honors Black lives, calls for an end to racial violence and police brutality, and the dismantling of systems of oppression while offering healing to those who have endured these inequities for generations.
Though aware that the building was set to be demolished at a future date, the artists felt that it could offer a prominent, albeit temporary home to this statement of grief and call to action.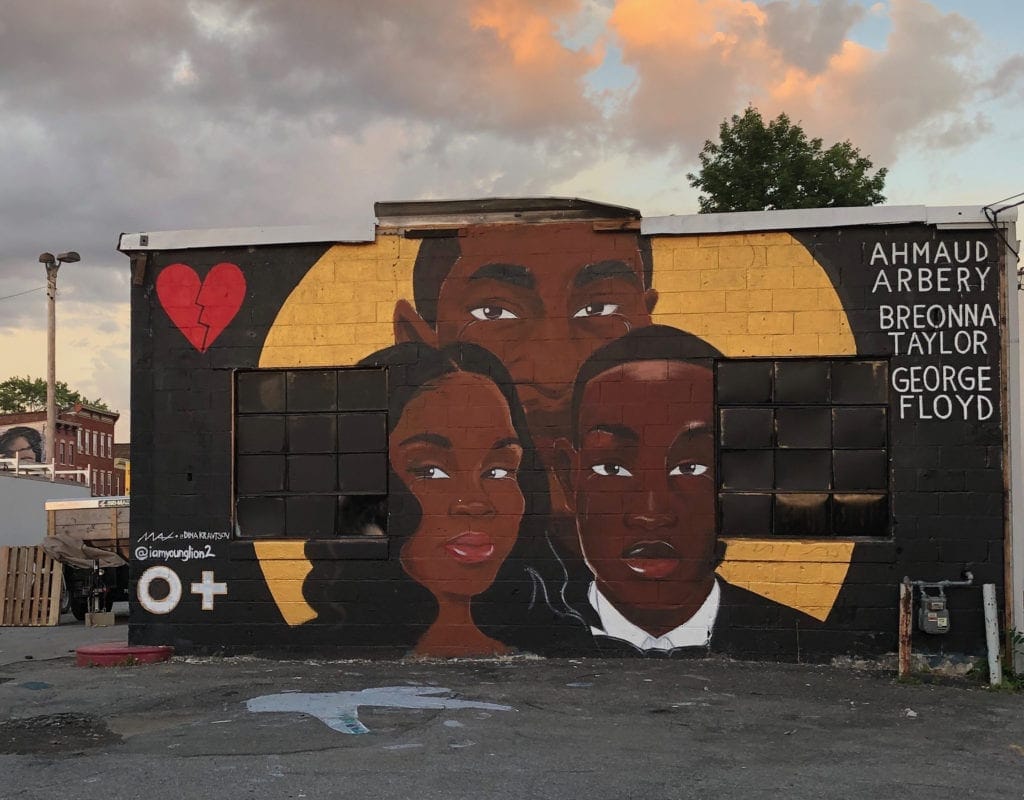 In July, Radio Kingston will move forward with the long-planned demolition of the building at 695 Broadway to create a community green space. 
"Radio Kingston's intention is to create a public green space on the site," says Radio Kingston Executive Director Jimmy Buff. " We've been fortunate to have Jalani, Dina, and Matt's work up for far longer than anticipated and will memorialize it with a permanent representation in the form of a standing display."
Prior to demolition, on July 10th artist Jalani Lion will work with O+ to carefully cover the mural with black paint to help reduce the potential harm to the community, as well as mitigate the visual impact of this portrait being lost while the building still stands in memoriam.
The word "Dismantle" will be placed on the facade as a call to action and opportunity for community engagement on the site in anticipation of the literal dismantling of the building.
During the week between painting and demolition, Radio Kingston will open the space and host events at the site on Wednesday, July 12th and Friday, July 14th where community members are invited to write on the wall all of the societal constructs that they wish to see dismantled. A permanent installation to commemorate the mural and its message will be placed on the site once work on the green space is completed.
The hope is that even when the wall is removed, the space will continue to be a positive symbol for our aspirations as a community.
Timeline and event details
July 10th: Mural decommissioned by artist Jalani Lion in collaboration with O+ (rain date July 11th)
July 12th, 5-7 pm: Community wheat pasting event with Radio Kingston, The D.R.A.W., and O+
July 14th, 1-3 pm: Community wheat pasting event and live broadcast with Radio Kingston and Midtown Arts District
July 17-24th: Building demolition begins
Thank you to local artists Jalani Lion, Dina Kravtsov, and Matthew Schulze for this powerful work of public art and its calls for action, justice, and healing.
"It is my hope that this mural can provoke thought and emotion on this country's recent events. I hope it can serve as a symbol for positive change in the country, as well as the city of Kingston." — Jalani Lion