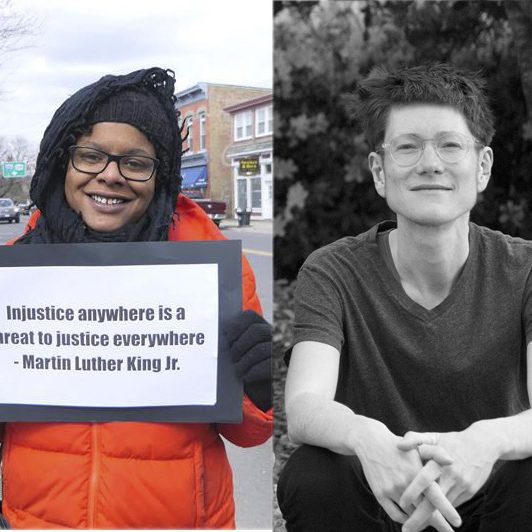 Callie Mackenzie Jayne and Ocean Joseph Lofgren
Ocean J. Lofgren is a photographer and video artist living in Rosendale, New York and a life long resident of the Hudson Valley. He is an alumnus of the 2016 O+ Festival. His work has shown nationally and internationally in Queer Prophecies: Future Visions with Coral Short, In New York at Judson Memorial Church, the SOHO 20 Gallery, Manhattan Theater Source, Islip Art Museum, and The Gallery at Hummingbird; and in Dublin, Ireland at the Out House Gallery. His work has also been published in Source Magazine, Ireland's Photographic Review. Ocean has a BFA from Purchase College (1997) and a Masters Degree in Special Education from Hunter College (2005.) Ocean currently works as a special education teacher and a dyslexia therapist.
Callie Jayne is the Founder & Executive Director of Rise Up Kingston, and Radio Show host at Radio Kingston. Her desire to fight for justice began in 8th Grade protesting against unequitable dress code policies. Callie's career started off in sales, bouncing from job-to-job, and struggling to meet ends meet. Her life, work and educational experiences led her to discover the institutionalized issues that were preventing her and many others — from all walks of life — from achieving a quality standard of living. Her desire for change comes from the belief that all people deserve a basic standard of living, and if we could all come together and hear many differing perspectives, we can use our struggles to achieve collective greatness.