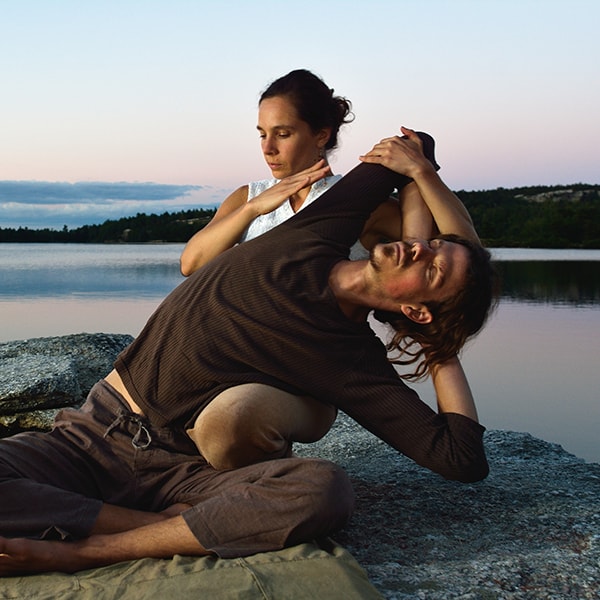 Eric Archer and Diana Seiler - Yin Yoga with a Touch of Thai Massage
Enjoy a deep Yin Yoga journey with live music and ecstatic poetry while receiving Thai Massage. Join Eric and Diana as they weave the long held postures of Yin Yoga with the gentle touch of Thai Yoga Massage, threaded with meditative sound and poetics. The fusion of Yin Yoga with healing touch offers an immersive experience to nourish the heart and spirit.

Eric Archer C. Dahlberg is a senior Jamtse Yin Yoga Teacher who has been assisting and co-teaching teacher trainings with Biff Mithoefer for 10 years. Eric brings 12 years experience teaching Yin Yoga in a myriad of settings, cultivating a deep sensitivity to the practice, anatomy, philosophy, and spirit of the Yin practice. He has helped bring deep listening, Taoist inspirations, and storytelling to the foundational practices of the Jamtse School of Yin Yoga. Eric has been faculty at the Omega Institute in New York for 10 years teaching Yin Yoga, mindfulness and meditation, and contemplative and expressive arts. Eric has developed mindfulness programs for the Millbrook School and the Finger Lakes School of Massage, and produced the local lecture and arts series 'Everyday Expert' in the Hudson Valley of New York. Eric has collaborated with Prema Mayi on her Bhakti and mantra offerings, and has worked as a multi-instrumentalist musician and composer who has toured internationally, most recently with the Gipsy Kings. He is a woodcarver, poet, and naturalist living in the Shawangunk Ridges of New York State.