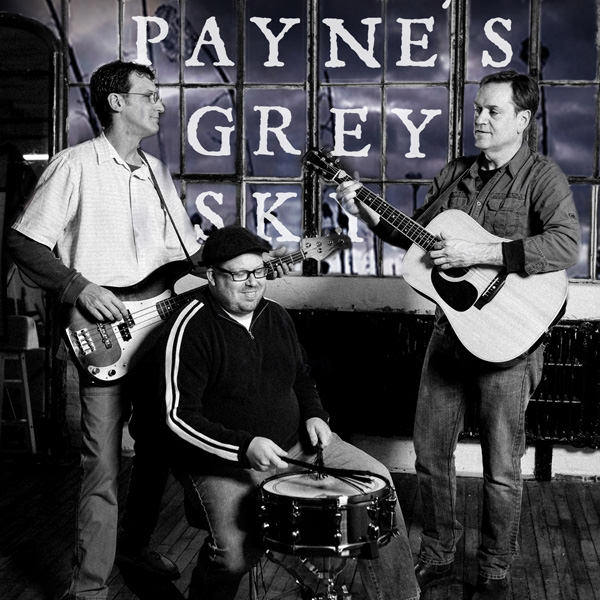 Payne's Grey Sky is an American roots rock band from Kingston NY. Jimi Scheffel (lead vocals, guitar), Rich Dymond (bass, backing vocals) and Dave Sahloff (drums) formed the band in 2009. PGS often includes Hawk Hermann (fiddle, backing vocals) and Betsy Scheffel (backing vocals). In June 2015, PGS released their first CD of original music, the self-titled Payne's Grey Sky. A number of tracks can be heard in rotation on local radio stations, WDST, WKZE and WVKR. Almanac Weekly music critic, John Burdick wrote in his review of the CD, "Lyrically, it is bardic, perching with impeccable balance between personal and social, addressing relationship challenges in a high diction that could just as easily be describing the historical moment. Musically, it's ecstatic chamber/ folk rock …"
Over the years, Payne's Grey Sky has lovingly donated their time for local fundraising events, including YWCA's Tunes for Tots, the Ulster Police Women's Auxiliary's Coming Together for Kids, the Gruner Memorial Bike for Cancer Care, and The Delisio Memorial Golf Tournament benefiting the Special Olympics. In 2014, Payne's Grey Sky was presented with the "Y" Ally award from the Ulster County YWCA for their support of this great local organization.
The band performs frequently at a number of local venues throughout the Hudson Valley, many of which are supporters of the O+ festival year after year.
https://www.youtube.com/channel/UC054gB0c55UKgECToglWb8g