MEDITATION on "Survivor Love Letter" by Theresa Widmann
MURAL "Survivor Love Letter" by Jess X. Snow and Layqa Nuna Yawar (words by Tani Ikeda)
This mural tells the origin story of the Survivor Love Letter project as painted by O+ alumni Jess X. Snow and Layqa Nuna Yawar. Founder Tani Ikeda wrote a love letter to her younger self on the anniversary of her assault: "Dear Survivor: to love yourself is to become free." The mural features a double portrait of Ikeda comforting her younger self along with her words, plus the words of Kingston-area survivors of sexual violence who participated in a facilitated workshop. Floating lily pads, flowering St. John's Wort and monarch butterflies remind us that, like nature, we can transform and heal from trauma by loving and tending ourselves. It is the first of many monumental murals that will celebrate queer and trans survivors of color around the country.
Tani Ikeda
Tani Ikeda is an Emmy winning director who creates narratives, documentaries, music videos, and commercial films. She was recently selected as one of Sundance's 2018 intensive screenwriting lab's fellows and was also named one of Film Independent's 33 Emerging Filmmakers as a Project: Involve Directors Fellow. Ikeda was an Executive Producer and Director on the Blackpills Documentary TV Series "Resist" with Black Lives Matter co-founder Patrisse Cullors about the fight against LA County's 3.5 billion dollar jail plan. At the age of 21, Tani Ikeda co-founded imMEDIAte Justice, a nonprofit that fosters the talents of young women artists working in virtual reality. She is the current executive director of imMEDIAte Justice and was named one of the "25 Visionaries Who are Changing Your World," by the Utne Reader. Ikeda tours the country speaking at universities and national conferences about storytelling as a tool for social justice. Tani holds a Bachelors Degree in Film Production from the University of Southern California and currently resides in Los Angeles. (@taniikeda)
Jess X. Snow
Jess X. Snow is a film director, artist, poet and community arts educator who creates queer asian immigrant stories that transcend borders, binaries and time. They hold a BFA from the Rhode Island School of Design, and is currently a MFA thesis student at NYU Grad Film where they are an Ang Lee Scholar and a BAFTA BBC Diversity Scholar. They are currently a guest on the unceded traditional land of the Lenape people (Lenapehoking / Brooklyn, NY).
Through narrative film, large-scale murals, children's books and community art education, they are working to build a future where LGBTQ+ and migrant people of color may see themselves heroic on the big screen and city walls & discover in their own bodies; a sanctuary for healing and collective liberation. (@jessxsnow)
Layqa Nuna Yawar
Layqa Nuna Yawar is a public artist and multidisciplinary storyteller living and working in Newark, NJ. He makes paintings, installations, workshops, and socially engaged public art projects centering the voices and narratives of people of color in pursuit of social justice and shared liberation. His artwork aims to disrupt established semiotic systems and reimagine them
in service of a better and brighter future.
Layqa's process is informed by his experience growing up in Ecuador and migrating to the U.S.A. as a teenager. His work exists at the intersection between migrant alienation and belonging, between cross-cultural identity and decolonization, and between the private and the public. (@layqanunayawar)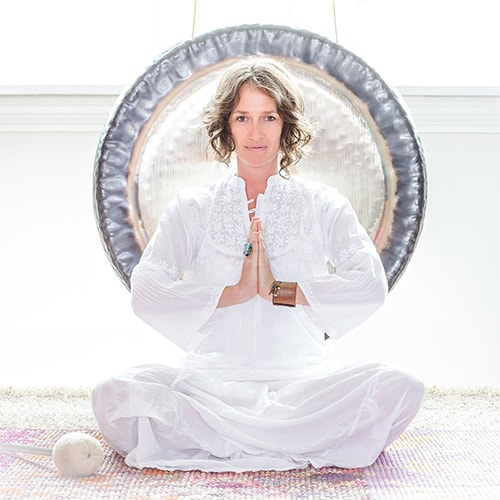 Theresa Lyn Widmann is a writer, teacher, sound healer, women's advocate, and community uplifter who uses her superpowers to help people heal and create a life filled with meaning. Founder of Anahata Yoga and Healing Arts, she believes in the supreme power of compassion to heal ourselves and our communities and is driven by this defining principle in all her work. 
Theresa has studied and practiced various meditation techniques, read countless books on yoga, meditation, energy work and spirituality, and is regularly adding to her base of knowledge on all these subjects. She is a KRI Certified Kundalini Yoga teacher, a certified Gong Master and has received training in the deep releasing practice of Yin Yoga and Trauma Sensitive Yoga training as a volunteer teacher for the non-profit, Exhale to Inhale.