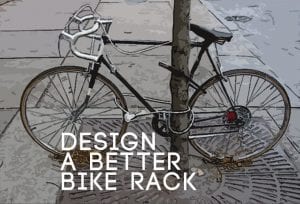 YO+U'RE invited to the Design A Better Bike Rack Final Vote & Reveal Party on Thursday, March 30 from 6:30- 8 p.m. at The Lace Mill, 165 Cornell St. in Kingston.
The evening, which is free and open to the public, includes:
•Exhibition of the five bike rack design finalists.
•In-person voting for your favorite design
•Screening & discussion of "Groningen: The World's Cycling City"
•Vote tally & reveal of the winning design, which will be fabricated for installation along Cornell Street
Refreshments will be served.
At 5:30 p.m. join Bike-Friendly Kingston for an easy pre-party ride that includes stops at O+ murals. Meet at the front entrance of the Lace Mill. Dress appropriately for the weather. If you plan to bike home after the party please have working front and rear lights.
The bike rack design competition is a partnership between O+ Festival, Live Well Kingston, Bike-Friendly Kingston, Complete Streets Advisory Council and the Kingston Greenline.
This competition was made possible by a grant through APA NY Metro as part of the Plan4Health program.